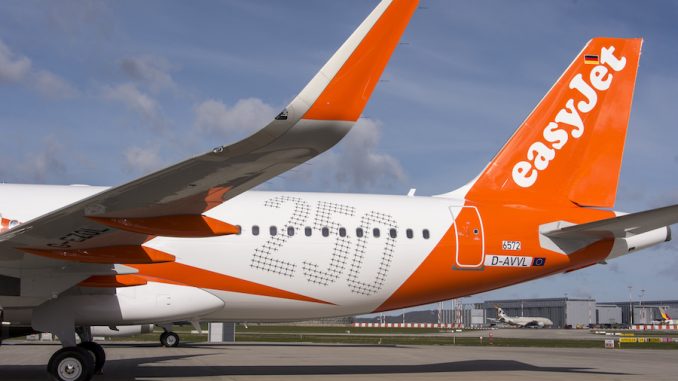 Luton-based carrier easyJet has released their financial results for the first half of 2017. The carrier stated in their H1 FY17 report that they, "delivered a resilient performance during the winter months, with strong cost control, improving operational performance and within guidance for revenue."
The carrier has recorded 33.8 million passengers during the first quarter with load factors being recorded at 90.2 percent, which is a record achievement for the airline. Such passenger numbers have seen a 9 percent increase on a year-by-year basis. Load factors for the same period last year were reported at 89.7 percent.
The carrier's revenue has also increased by 3 percent to £1.827 billion. However, the carrier has noted that they have seen a 9.7 percent decline in their revenue per seat bringing the total revenue per seat to £48.80.
easyJet commented on this decline by adding that the low cost of fuel and high capacity growth in the market has put their pricing under pressure, potentially relating to competitors from other low-cost carriers such as Ryanair and Norwegian.
Although easyJet's revenues have increased, this has not contributed to a strong climb in profits. The carrier reported a £212 million loss for Q1 17 with the reasoning for such losses being Easter falling in the second half of the year as well as a £82 million loss through currency adversities.
The Easter holiday falling in the second half of the year had cost the carrier £45 million in that quarter alone. With the forthcoming summer schedule falling into the second half of 2017, the airline will expect their finances to 'see-saw' from a loss to a profit.
In terms of bookings, there has been an increase of 55 percent for the half year, offering potential growth to around 8.5 percent in capacity. Bookings for the third quarter are set to rise to by 77 percent compared to last year.
Commenting on the results was easyJet's CEO Carolyn McCall who said, "easyJet delivered a resilient performance during the winter months with strong cost control, improving operational performance and within guidance for revenue."
Another contributing factor leading to easyJet's current loss is due to the disruption caused in Europe regarding ATC strikes. Over 3,000 of easyJet's flights were cancelled as many French controllers were striking over pay and industrial conditions. Storm Doris also affected the Easter holiday getaways causing disruption to all UK flights.
In terms of the future, easyJet aims to boost to profitability through fleet efficiency and upgrading. The carrier will slowly start to increase seat capacity by removing the 156-seater Airbus A319 that will be replaced with 186-seater Airbus A320neos that will also deliver a cost per seat saving of around 13 or 14 percent.
easyJet will also be receiving 30 Airbus A321neo aircraft in a 235 seat configuration next year that will also deliver an 8 to 9 percent cost saving compared to the A320neo.
The carrier is expected to announce this summer where in Europe they are acquiring an Air Operators Certificate. From there, it will be clear what their new strategy will be for the future.
James is a passionate AvGeek who has been actively spotting for years. James has been an Aviation Enthusiast for 7 years and has a fond likening to Concorde! James hopes to grow in the aviation industry with journalism being his primary focus.
Latest posts by James Field (see all)