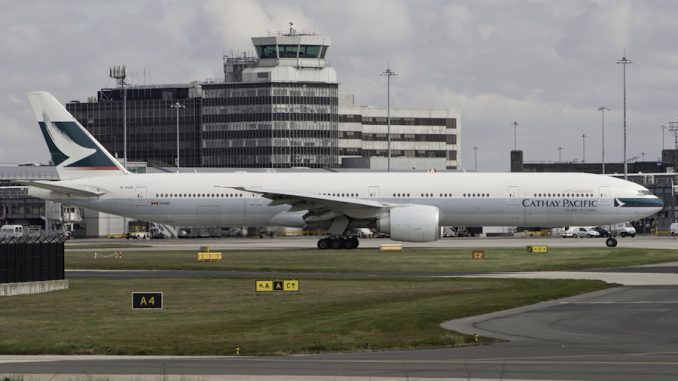 Hong Kong's largest airline, Cathay Pacific, has announced the elimination of 600 jobs at the company in an effort to battle strong competition in the region and its first financial loss in eight years.
While 600 people may be only a fraction of the 33,000 employees at the airline, the news is a sign that new CEO, Rupert Hogg, attempts a new approach to bring the airline back to profitability. In total, the executive team is looking to shave 30% of its costs related to staff but may look toward cutting supply costs as well.
"We've had to make tough but necessary decisions for the future of our business and our customers," stated Hogg. "We will have a new structure that will make us leaner, faster and more responsive to our customers' needs. It is the first step in the transformation of our business."
Cathay Pacific has faced challenges in recent years, driven by growing airlines in mainland China, low-cost carriers in the region, and the three large Gulf carriers, Etihad, Emirates, and Qatar, expanding their international reach to places where Cathay used to be unchallenged.
In contrast to the many low-cost carriers in the region, such as AirAsia and Vanilla Air, Cathay Pacific has stuck to its plan of being a premium, full-service airline. The airline has become well known for its top-notch service provided to all of its passengers, impressive lounges, and in-flight catering. The strategy is noted as being very similar to Singapore Airlines, another major competitor in the region.
However, no changes in staff are being made for frontline employees, including pilots and flight attendants. The cuts include 25 percent of management staff and 18 percent of non-managerial positions at its head office in Hong Kong.

Joe joined AirlineGeeks in 2014, and in his current role as Editor-in-Chief manages a growing team of writers both in North America and Europe. He enjoys spending the bulk of his time researching, learning and analyzing the latest trends in the airline industry, all while mentoring new members of the AirlineGeeks team who seek to do the same. Areas of research include revenue management, codeshare and alliance partnerships and airline financial results.

Latest posts by Joe Pesek (see all)