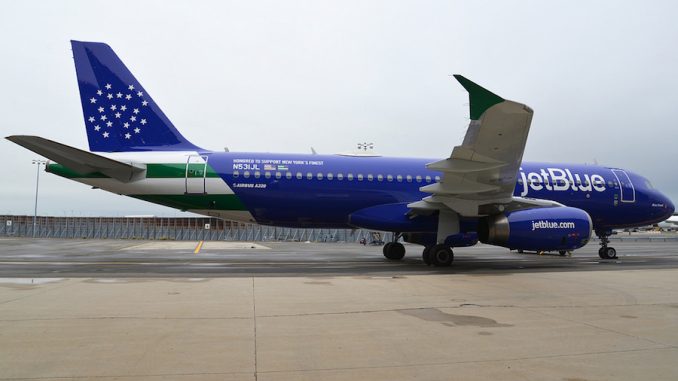 On Monday, JetBlue and the British Metropolitan Police held their eighth annual plane pull at New York's John F. Kennedy Airport. The event raises awareness for J-A-C-K, the Joining Against Cancer in Kids' Foundation. During the event, JetBlue revealed its newest livery, "Blue Finest," a paint scheme dedicated to the New York Police Department.
London police officers competed against authorities from the NYPD, FDNY, and JetBlue crewmembers to raise money for cancer research and families affected by pediatric brain cancer. Close to 300 participants grouped into 23 teams to partake in the trials of pulling the Airbus A320 aircraft.
"As New York's Hometown Airline, supporting our local public servants including the NYPD is part of our DNA. Our Mission of inspiring humanity is brought to life each day through our crewmembers, many of whom are also former public servants. This mission also lives in the work of the NYPD does to keep our communities safe," added Joanna Geraghty, JetBlue's Executive Vice President of Customer Experience.
"Blue Finest" will be placed into the current JetBlue fleet of 100 aircraft that serve 101 cities. The paint scheme shows the NYPD badge, shield, and flag.
"Blue Finest" is the third scheme honoring people. "Vets in Blue honors veterans, "Blue Bravest" shows respect to the New York Fire Department, and "Bluemanity" pays respect to the airlne's employees.
"I want to thank everyone at JetBlue for honoring the hardworking men and women of the NYPD with this incredible symbol of partnership and professionalism. This aircraft, 'Blue Finest,' has the perfect name and appearance to represent those who have made it their lives' work to fight crime and keep people safe." NYPD Commissioner James P. O'Neil said.
He continued, "It is an impressive interpretation of NYPD hallmarks and will spread our commitment to public safety far beyond New York City. Safe travels to all who fly aboard her, and I wish the very best of luck to those pulling this plane today in support of JACK's Pack and childhood cancer research."
The J-A-C-K Foundation was founded by Metropolitan Police Department officers Richard and Yvonne Brown when their son was diagnosed with a rare form of cancer. JetBlue helped transport Jack to and from his treatments around the U.S.
Photo Gallery
All photos provided by Gordon Gebert
Matthew Garcia became interested in aviation at the age of 12 when he installed Microsoft Flight Simulator X on his computer. He was instantly "bitten by the bug" and has been in love with aviation ever since. Matthew took his first introductory flight in 2013 and began normal flight training in February of 2015. Over the years, Matthew's love and knowledge for aviation has grown tremendously, mainly due to FSX. Garcia flies highly advanced aircraft in a professional manner on a highly complex virtual air traffic network simulating real world flying. In 2016 Matthew achieved his private pilot certificate from the FAA. Now he studies journalism at the University of Nebraska at Omaha.
Latest posts by Matthew Garcia (see all)