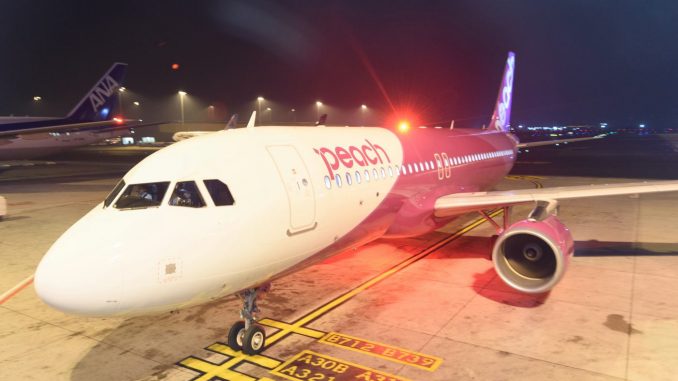 Osaka-based Peach Aviation, a low-cost carrier specializing in flights between Japan and Northeast Asia, announced that it will begin accepting Bitcoin as a form of payment for tickets.
The announcement follows a shift in regulations in Japan, allowing the legitimization of the crypto currency. Additionally, the Japanese government hopes that the recognition of Bitcoin will allow more innovation in Japan's financial technology market and prevent the shadier uses of Bitcoin, such as money laundering and other financial crimes.
Bitcoin, a form of digital payment that allows users around the world to exchange money without the interference of intermediaries, governments, financial institutions, and regulators, is rising in popularity throughout the world. With the increased interest of Bitcoin in Asia, Peach hopes that the acceptance of the currency will attract more passengers from China and South Korea.
"We want to encourage visitors from overseas and the revitalization of Japan's regions," Shinichi Inoue, Chief Executive Officer of Peach told reporters in Tokyo. "This is a real first step in partnerships for Japan and we are aiming for more company and service tie-ups."
However, Peach is not the first airline in the world to begin accepting the currency. Latvian low-cost carrier, airBaltic, began accepting the currency in 2014. Polish carrier, LOT, soon followed and accepted Bitcoin in 2015.
Following the rising popularity of Bitcoin, Universal Air Travel Plan, the airline owned payment network, partnered with Bitnet more than two years ago to allow Bitcoins as payment for flights on more than 260 airlines.
Peach is controlled by Tokyo-based All Nippon Airways (ANA), which maintains a 66 percent stake in the low-cost carrier.
An "AvGeek" for most of his life, Akhil has always been drawn to aviation. If there is an opportunity to read about an airline, fly on a new airplane, or talk to anyone about aviation, he is on it. Akhil has been on over 20 different kinds of aircraft, his favorite being the MD-80. Additionally, he has visited 5 continents and plans to knock out the remaining two (Africa and Antarctica) soon. Based in Dallas, Akhil graduated from Texas A&M University with a degree in Management Information Systems and currently works in consulting. His dream is to become an airline executive.
Latest posts by Akhil Dewan (see all)