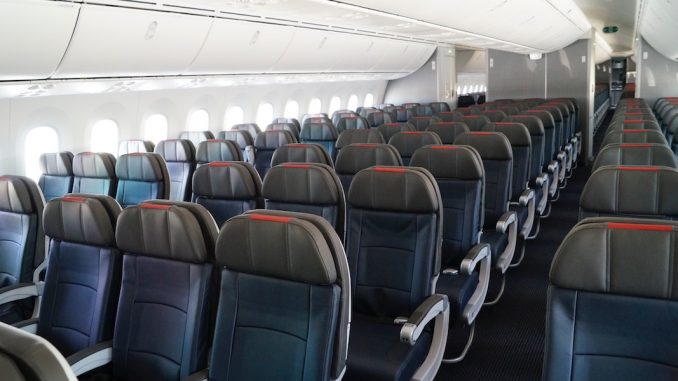 Passenger comfort has slowly been on the decline for economy passengers in the United States. Much of this decline, however, is due to the passenger's pockets and the fact that many standard travelers are looking for the cheapest way possible to get from their origin to their destination and back.
Airlines are cueing in on this and the requests of passengers leading to the rise of Ultra-Low-Cost Carriers (ULCCs) and Low-Cost Carriers (LCCs), such as Spirit Airlines, Frontier Airlines, and Southwest Airlines. These airlines have learned that no matter what issues arise and how many complaints that the airlines receive, passengers are willing to deal with certain airlines again if the price is right.
As the rise of the ULCCs and LCCs continues, the legacy carriers in the United States are looking for ways to catch up.
American Airlines recently announced that they would offer 29-inch seat pitch on their new Boeing 737 MAX aircraft. Following in their footsteps, United is rumored to be exploring similar options for their aircraft in the near future.
To a source close to the airline, United Airlines President Scott Kirby said, "Seat pitch has come down, but seat pitch has come down because that's what customers voted with their wallets that they wanted. I know everyone would tell you, 'I would like more seat pitch.' But the history in the airline industry is every time airlines put more seat pitch on, customers choose the lowest price."
Kirby cites one of the main reasons for evaluating this options is the fact that the carrier wants to be competitive with LCCs such as Southwest Airlines. Currently, the standard economy seat on United's Boeing 737-800s is between 30 and 31 inches, in comparison, Southwest Airlines offers between 32 and 33-inch seat pitch on their 737-800 aircraft.
While American and United would be the first major carriers to offer such seat pitch, it is not completely unheard of in the U.S. as Spirit Airlines offer seat pitches ranging from 28 inches to 31 inches. While American and United would not make these seats standard, they would offer them at a lower price compared to the standard economy seats.
While some customers may complain about the loss of legroom on flights, there is a simple solution, and that is purchasing upgrades to either standard economy or economy plus. While some feel that this should not be something that is needed to have a comfortable amount of leg room, money talks in the airline industry.
If the airline gains three passengers by offering a cheaper base far, but lose one passenger because of their unwillingness to upgrade, it still benefits the airline. Only time will tell how the reduced seat pitch seats will do for the airlines offering them, but with how people book flights nowadays, it will be a somewhat successful business method for the legacy carriers and could allow them to compete with the ULCCs like Spirit and Frontier.
The price will have to be right for the airlines to pull passengers away, but if spending trends continue like they currently are, the idea of smaller seats becoming standard is not that far out there.
Jace has been working at AirlineGeeks for nearly three years. Born in Seattle, Boeing and aviation quickly took over his life and he never stopped looking up. Jace enjoys plane spotting and taking trips just so he can fly. He is currently studying at Embry-Riddle Aeronautical University while earning his Bachelors of Science in Air Traffic Management.
Latest posts by Jace Moseley (see all)