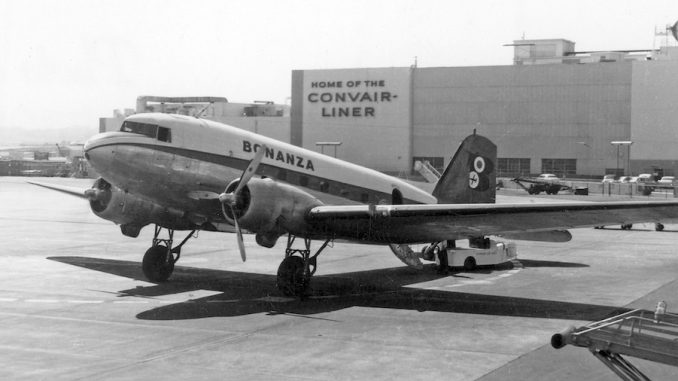 Founded in 1945, Bonanza Airlines launched scheduled passenger service using a single aircraft out of their hub in Las Vegas, Nevada. Initially known as Bonanza Air Services in Las Vegas, the company would operate regular service over the skies over the southwestern US for slightly longer than two decades. The airline was developed as a result of the Civil Aeronautics Board's attempt to create local service carriers.
Bonanza Airlines maintained a fleet that featured five different aircraft types, including the Cessna T-50, which was their first aircraft, Douglas DC-3, Douglas DC-9, which had earned the nickname "Funjets", Fairchild F-27, and the Grumman Gulfstream I.
Additionally, the airline had ordered a McDonnel Douglas DC-9-30 variant airplane, however, the airline merged before taking delivery of the airplane, and it was instead delivered to Air West following the merger. The airline had also attempted to purchase three BAC One-Eleven aircraft, however, this action was rejected by the Civil Aeronautics Board at a time when most airline's actions were still heavily regulated.
At the time it were founded, the airline operated service to several cities within the state of Nevada, including Las Vegas, Reno, Hawthorne, and Tonopah. Within a few years, the airline was able to expand and include destinations in Arizona and California, including Phoenix, Tuscon, Los Angeles and San Diego.
Towards the end of its existence, Bonanza had expanded even further, flying to Salt Lake City, Utah, Palm Springs, California, Lake Tahoe, Nevada and several more. Also, the carrier operated flights to three destinations in Mexico, including La Paz, Mazatlan, and Puerto Vallarta.
On April 17, 1968, Bonanza Airlines completed a merger with local service carriers Pacific Air Lines and West Coast Airlines, collectively forming Air West. The defunct carrier's DC-9s and F-27s continued on to join the new airline's fleet. Renamed Hughes Airwest two years later, the carrier was acquired by Republic Airlines in 1980 and then Northwest Airlines in 1986.
Ashley is currently a senior in high school and plans on pursuing a career in aviation or journalism. Her favorite airplanes include the Boeing 777, 737MAX, and Airbus A350. She enjoys taking flights on various airlines to different airports and planespotting at her local airports.
Latest posts by Ashley Magoon (see all)