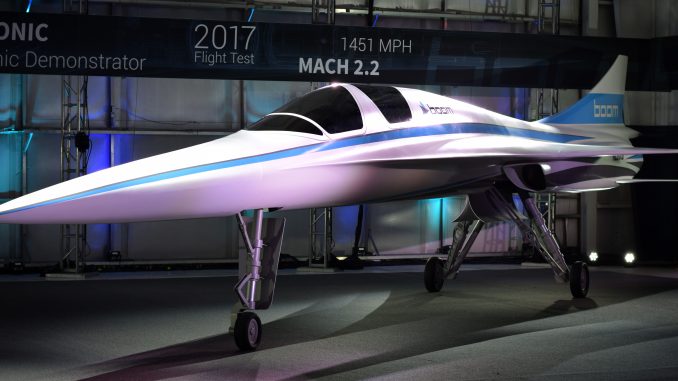 Boom Supersonic, an aircraft manufacturer developing a supersonic airliner, has announced that orders have tripled during this year's Paris Air Show for its first aircraft. While specific airlines were not mentioned in the press release other than Virgin Atlantic which has already made its purchase public, the total aircraft ordered count now stands at 76. 
The start-up company, created in 2014, is currently developing the fastest civilian aircraft in its Centennial-based hangar in Colorado. With an estimated introduction to commercial travel in 2035, the new supersonic airliner will not be in the skies anytime soon. However, the XB-1 "Baby Boom," a one-third scale test aircraft, is predicted to take flight in 2018. 
Boom Technology revealed the first finished prototype of the "Baby Boom" at the 2017 International Paris Air Show, marking a large step in a positive direction for the company and the future of supersonic flight. Boom has already received 33 million U.S. dollars from investors such as Greg McAdoo and Y Combinator back in March, which helped fund new improvements to the "Baby Boom".
The XB-1 showed off it's new and improved stability, performance, and safety while on display at the air show. According to the Denver Post, a third inlet was added near the tail of the aircraft to provide a larger propulsion stability as well as improved wing design that assists in crosswinds.
"We now have everything required to build history's first independently developed supersonic aircraft – the funding, technical design, and manufacturing partners," said Boom's CEO, Blake Scholl. Among the performance upgrades, the airframer also released a new lay-flat configured option for airlines.
The XB-1, which will contain a crew of 2 with a range less than 1,000 nautical miles, will start subsonic test flights around the Denver area before moving to California for supersonic flights. The aircraft will also have a crew of two and hold up to 55 passengers, all while cruising for 9,000 nautical miles at a speed of Mach 2.2.
Experts predicted that the manufacturer could sell 1,300 aircraft based off the need for quick travel across the globe. That number could double if the noise ban over the United States were to be dropped.
Wind tunnel testing for the aircraft is being conducted at Wichita State University's National Institute for Aviation Research.
Scholl told Aviation Week, "The high-speed stuff you basically don't need to go into a wind tunnel for because the simulations are really good. The weakest part of the simulation, which people find counterintuitive, is the low speed. Anytime you have flow separation or complex vortices such as takeoff and landing is when you want to make sure you are absolutely dialed in on."
General Electric is currently the only engine provider of the XB-1, however, Rolls-Royce is also looking at creating a supersonic engine to compete with the GE J85-21.
Matthew Garcia became interested in aviation at the age of 12 when he installed Microsoft Flight Simulator X on his computer. He was instantly "bitten by the bug" and has been in love with aviation ever since. Matthew took his first introductory flight in 2013 and began normal flight training in February of 2015. Over the years, Matthew's love and knowledge for aviation has grown tremendously, mainly due to FSX. Garcia flies highly advanced aircraft in a professional manner on a highly complex virtual air traffic network simulating real world flying. In 2016 Matthew achieved his private pilot certificate from the FAA. Now he studies journalism at the University of Nebraska at Omaha.
Latest posts by Matthew Garcia (see all)