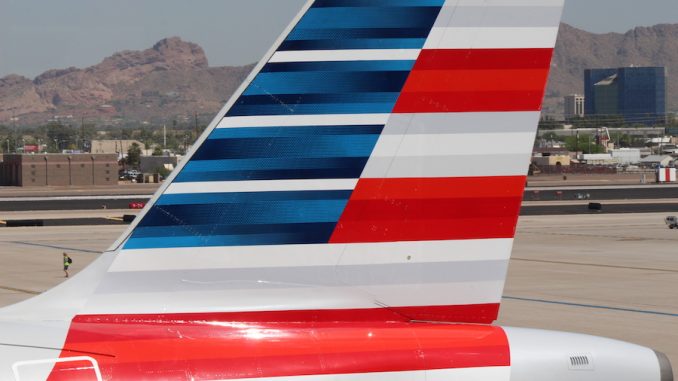 With temperatures approaching record highs this week in Phoenix, Arizona, American Airlines has had to cancel more than 40 flights in and out of Phoenix Sky Harbor simply because the planes cannot take off.
Over the past couple of days, temperatures at the airport have been hovering around 120 degrees Fahrenheit, with the record in Phoenix being 122 degrees between 3 PM and 6 PM. The majority of flights that have been cancelled are American Eagle flights using Bombardier CRJs, which have a maximum operating temperature of 118 degrees.
Airplanes are designed with maximum operating temperatures as it helps determine how much thrust an engine needs to produce at certain temperatures and how much runway is needed to takeoff. As air temperature rises, the density of the air decreases – making the air thinner. That thin air reduces the amount of lift generated on the aircraft's wings which, in turn, means the aircraft's engines need to generate more thrust and the aircraft needs more runway in order to get airborne.
According to a statement released by the airline, larger aircraft that fly out of Phoenix, such as Boeing 737s and Airbus A320s, will be operating normally as they have operating temperatures at 126 degrees and 127 degrees, respectively. Other carriers, such as Southwest and United, have not reported any cancellations in their flights in and out of Phoenix as most of their flights are operated using Boeing and Airbus fleets.
Delta Air Line's regional affiliates, however, had three regional flights cancelled as well. Two of them involving Embraer 175s and one of them involving a Bombardier CRJ.
Issues with high temperatures are the reason why airports in Asia, the Middle East, and South America schedule long flights for cooler times, such as evenings and night time.
While this incident is isolated to Phoenix, there is a growing concern on how rising global temperatures could affect aircraft performance. In a 2016, the International Civil Aviation Organization (ICAO) warned that climate change could "have severe consequences for aircraft take-off performance, where high altitudes or short runways limit the payload or even the fuel-carrying capacity."
With aircraft design, airport size and location, airport elevation, and payload all playing factors in aircraft performance, it is hard for researchers to pinpoint an exact outcome of how climate change will affect aircraft and airports.
Denver International Airport, for example, is already at a higher elevation than most U.S. airports. This means that the air surrounding the airport is already thin. If temperatures continue to rise, Denver could be facing problems similar to Phoenix.
New York-LaGuardia could also run into problems due to rising temperatures. Even though the airport is at sea level, it's runways are far shorter than most commercial airports. This means that the amount of lift that needs to be generated by aircraft on a hot day may not be possible on the distance of LaGuardia's runways.
Additionally, in order to take off with less lift, airlines usually have to bump payload on hot days. For example, a Boeing 737 has to cut its maximum payload up to 15,000 pounds on days that hit 91F (33C). This could cause a problem for passengers and cargo being transported during busy summer months.
American Airlines and other carriers at Phoenix Sky Harbor are not planning on cancelling any other flights due to heat related reasons this week as temperatures are expected to drop to 116F (47C).
An "AvGeek" for most of his life, Akhil has always been drawn to aviation. If there is an opportunity to read about an airline, fly on a new airplane, or talk to anyone about aviation, he is on it. Akhil has been on over 20 different kinds of aircraft, his favorite being the MD-80. Additionally, he has visited 5 continents and plans to knock out the remaining two (Africa and Antarctica) soon. Based in Dallas, Akhil graduated from Texas A&M University with a degree in Management Information Systems and currently works in consulting. His dream is to become an airline executive.
Latest posts by Akhil Dewan (see all)