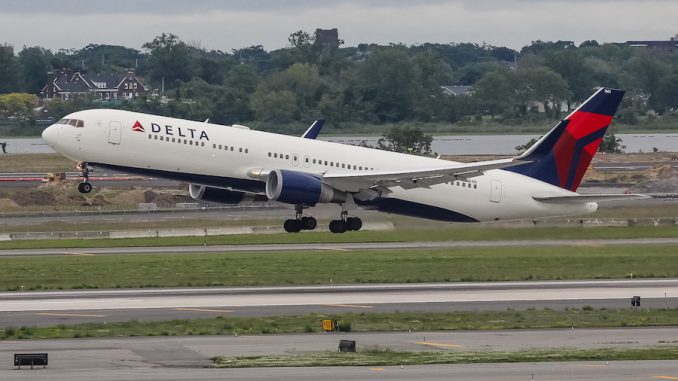 On Monday, Delta Air Lines announced four new nonstop flights between Austin, Texas and Amsterdam, Netherlands for only four days in March of 2018. The flights will be operated on a Boeing 767-300 on March 8, 9, 14, and 18  to accommodate goers of South by Southwest, a music and film festival held each year in Austin.
Delta will operate with their codeshare partners Air France, Alitalia, and KLM to connect passengers directly from Europe to Austin.
"Events like the SXSW always attract thousands of international visitors so it's important for Delta to meet the demands of our customers by offering special flights to these events," added Delta's Senior VP, Transatlantic, Dwight James. "This is one benefit of both our large fleet and partnership with KLM – we can schedule services across our network as demand dictates, whether that's a summer seasonal service or these flights to Austin."
Austin-Bergstrom's Executive Director, Jim Smith commented on the new flights. "Delta's AUS-AMS flights will make it even easier for global customers to experience SXSW, which last year saw 400,000+ attendees at this convergence of music, interactive, and film industries."
Delta also announced more expansion in Austin with a second daily flight being added from Seattle starting in October of this year. The current Seattle service has been going strong since starting off on June 12.
Austin Bergstrom currently receives daily service to Toronto, Canada via Air Canada, London's Heathrow via British Airways, Guadalajara, Mexico with Volaris, Mexico City, Mexico with AeroMexico, and seasonal Condor service to Frankfurt, Germany. The central Texas airport is also receiving new service to London's Gatwick on Norwegian in 2018.
This isn't the first time that a major airline has launched a limited new route for a special event. For Las Vegas' Consumer Electronics Show (CES), Delta is temporarily adding service between McCarran International Airport, Paris-CDG, Seoul Incheon, and Tokyo Narita in January 2018.
Using their Boeing 787-9 Dreamliner, Virgin Atlantic is also running "special" flights for the 2018 convention in Las Vegas, flying from London Heathrow on January 7 and 8, and returning from Las Vegas on January 12 and 13.
Matthew Garcia became interested in aviation at the age of 12 when he installed Microsoft Flight Simulator X on his computer. He was instantly "bitten by the bug" and has been in love with aviation ever since. Matthew took his first introductory flight in 2013 and began normal flight training in February of 2015. Over the years, Matthew's love and knowledge for aviation has grown tremendously, mainly due to FSX. Garcia flies highly advanced aircraft in a professional manner on a highly complex virtual air traffic network simulating real world flying. In 2016 Matthew achieved his private pilot certificate from the FAA. Now he studies journalism at the University of Nebraska at Omaha.
Latest posts by Matthew Garcia (see all)