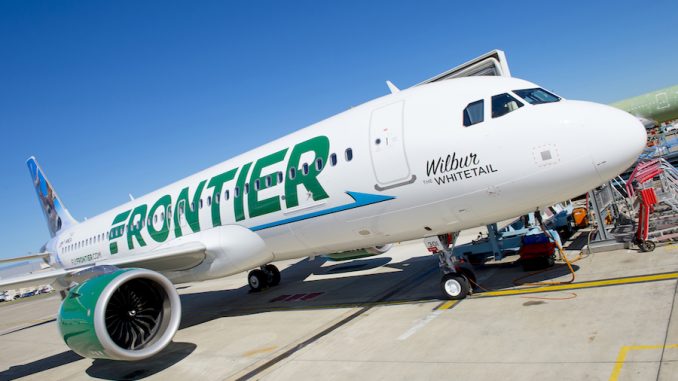 Growing up, we have all seen someone who tries desperately to fit in, even if it means sacrificing their individuality along the way. In the aviation community, there seems to be no better example of this than Frontier Airlines.
The Early Years
The carrier was originally suppose to fill in the Denver market that was struggling when Continental Airlines pulled out in 1993. The required switch from Stapleton International Airport to Denver International Airport left open space for Frontier to get their start.
The airline started the way many others do, with a hub and spoke system feeding to nearby states such as North Dakota, Idaho, Montana, Nebraska, and Texas. The airline also started with the much cheaper to acquire Boeing 737 Classic aircraft as the backbone of its fleet.
Frontier's original goal of flying out of Denver saw lots of success in the late 1990s and early 2000s as the airline expanded eastward to New York, Orlando, Minneapolis, and Boston and already started to change their strategy from being the Denver cheap carrier to a "jetBlue style" low-cost carrier with perks.
The airline purchased brand new Airbus A318s and A319s to replace the Boeing 737s and also started offering extras such as DirecTV onboard and free snacks.
Life Under Republic
However, by 2006, it appeared that the jetBlue infused marketing plan had backfired, and as the carrier needed to start fending off Southwest's surge into Denver, it would have to do so while also restructuring. Frontier had failed to adapt to the changing aviation scene following the events of September 11th and like many other carriers, filed for bankruptcy in the events that followed.
The airline was eventually merged into Republic after going through a secondary bankruptcy in 2008.
The acquisition by Republic saw Frontier merge with Milwaukee-based Midwest Airlines. Republic originally attempted to remove Frontier's jetBlue style marketing strategy and started to bring in some of Midwest's fan favorites such as bake onboard cookies but this also hurt the carrier financially.
And although Frontier assumed control of Midwest's hubs at Kansas City and Milwaukee, they were immediately disbanded as the cities lacked the demand that Frontier needed.
While the Midwest infusion into Frontier had failed, the airline opted instead to operate more like Allegiant Air and look for potential gaps in leisure routes. Hubs were announced in 2012 in Trenton, New Jersey, and Wilmington to seasonal destinations in Florida.
Furthermore, Frontier wanted to find holes in Southwest and Allegiant's Orlando hubs and launched service to mid-size cities with flights to Columbia, Shenandoah Valley, and Bloomington/Normal.
This strategy was high risk with a potential high reward, but for Frontier most of the strategy failed apart from Trenton's hub, which is still part of Frontier's route map with 8 destinations. However, the airport's marketability as a "cheap East Coast alternative airport" has slowly declined as Frontier started a secondary focus city in Philadelphia in 2015.
The base in Wilmington saw routes slowly decrease from 2013 on until Frontier pulled out of the market completely in 2015. Frontier swapped of the idea of competing for small cities in Florida to all out attacking other carriers' routes. The airline started service to cities like Cleveland, St. Louis, Indianapolis, and Chicago O'Hare to compete directly with other airlines such as United, Southwest, and Spirit.
By 2013, Republic wanted to get rid of Frontier Airlines and return to focusing on regional airlines. However, it was hard to sell off the carrier due to its poor state and failure to generate a profit based on Republic's marketing strategy. The airline would be part of the blame as to why Republic went into bankruptcy in 2016 and would cause them to suspend sister carriers Shuttle America and Chautauqua Airlines.
The Transfer to Indigo
The airline would be rebranded twice between 2013 and 2015, seeing the billboard style FRONTIER become FLYFRONTIER.COM in 2013 and eventually swapping out the silver billboard lettering for a newer green letting as well as enlarging the animal on the tail and stylizing the 'F' in Frontier to match that of the previous Frontier that disappeared in 1986.
Two years after Frontier was put up for sale, Indigo Holdings assumed control of the Denver-based carrier with its own vision for the airline. The new vision saw Frontier become more like Spirit Airlines, utilizing the ultra-low-cost carrier model and started to attack the hub and spoke system that was in places like Atlanta and Chicago.
The airline also started filling in older hubs, increasing and starting services to cities like Cleveland and Cincinnati. The airline would move to slimline seating throughout the fleet, including on newer Airbus A320neos and A321 models.
This brings us to Frontier news from 2017, including the announcement of Frontier adding 85 new routes while starting service to three new cities, Buffalo, Charleston, Pensacola, and restoring service to 18 previously abandoned cities. The growth of new routes will strengthen Frontier's already existing hubs, especially Denver, where growth for Frontier has been stagnant.
Conclusion
Is solidifying their current hubs the correct strategy for Frontier? Time will tell but the carrier's 23-year history has consisted of three owners, four rebrandings, four closed hubs, and four failed marketing strategies. Maybe it is a good thing that Frontier puts animals like geese and deer on their aircraft tails, because this airline migrates between marketing strategies quicker than geese can travel south for the winter.
This story was updated on Monday, July 24, 2017 at 11:10 a.m. ET to correct a factual error regarding Frontier's fleet of standard A321 aircraft, as well as their 1986 merger. 
Although Ian McMurtry was never originally an avgeek, he did enjoy watching US Airways aircraft across western Pennsylvania in the early 2000s. He lived along the Pennsylvania Railroad and took a liking to trains but a change of scenery in the mid-2000s saw him shift more of an interest into aviation. He would eventually express this passion by taking flying lessons in mid-Missouri and joining AirlineGeeks in 2013. Now living in Wichita, Kansas, Ian is in college majoring in aerospace engineering and minoring in business administration at Wichita State University.
Latest posts by Ian McMurtry (see all)