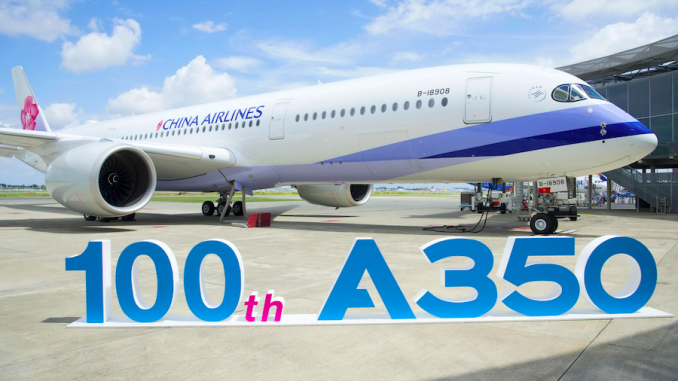 Toulouse, France-based aircraft manufacturer Airbus delivered the 100th Airbus A350 XWB to China Airlines Wednesday. The ceremony comes two and a half years after the company delivered the first A350 in December 2014.
Fabrice Bregier, Airbus COO and President Commercial Aircraft said the manufacturer was proud to deliver the 100th A350 to longstanding customer China Airlines, which is just one of 14 airlines operating the type worldwide.
"The 100th A350 XWB milestone comes as we reach our fastest widebody production ramp-up, on track to meet the target of 10 A350 deliveries per month by the end of 2018," Bregier said.
China Airlines executives were also on site for the delivery of the aircraft, a A350-900 variant with registration B-18908.
"China Airlines is happy to be receiving the 100th A350 XWB," said Nuan-shuan Ho, Chairman of China Airlines. "This remarkable new aircraft has not only met, but exceeded our expectations at every level. The A350 XWB is one of the key assets in our fleet and will be the basis for the development of our long haul route network."
Bregier agreed with Ho and emphasized the impact next generation aircraft such as the A350 and competing Boeing 787 have on the industry now and in years to come.
"The A350 is setting new standards for long haul air travel in terms of efficiency and comfort, thus being the perfect aircraft for China Airlines to expand its long-haul network," he said.
Thus far, the A350, which has operated on more than 110 routes and has carried nearly 14 million passengers since its entry into service, has experienced an operational reliability rate of 99 percent, which Bregier added is outstanding for a new aircraft type.
The next iteration of the type, the larger A350-1000, is expected to be delivered to launch customer Qatar Airways — also the launch customer for the A350-900 — in the fourth quarter of this year.
China Airlines, headquartered in Taipei, Taiwan, currently has seven A350-900 aircraft in the fleet with seven more to come. By the end of the year the airline is slated to have ten XWBs in their fleet.
The next route to come for the airline's A350s will be Taipei to Vancouver, a route on which it will replace the carrier's aging Boeing 747-400s.
The airline, however, is just one of 45 customers to place firm orders for the aircraft, with orders to date totaling nearly 850 aircraft, which lags behind the 787's current total of 1,275 orders.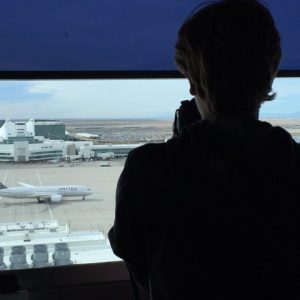 When he was just six months old, Parker took his first flight. From that point, he was destined to love aviation. His mom worked for Southwest Airlines much of his family have been frequent flyers on American Airlines for years, just as Parker is now. In 2015, Parker, inspired by aviation accounts on Instagram, decided to create an account of his own, and he hasn't stopped spotting since. On top of that, Parker has been writing for his school paper since his freshman year and has been writing and doing photography work for AirlineGeeks since August 2016.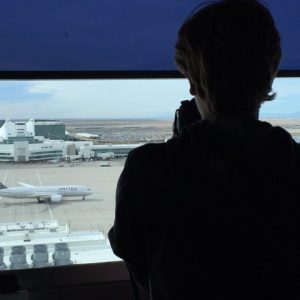 Latest posts by Parker Davis (see all)