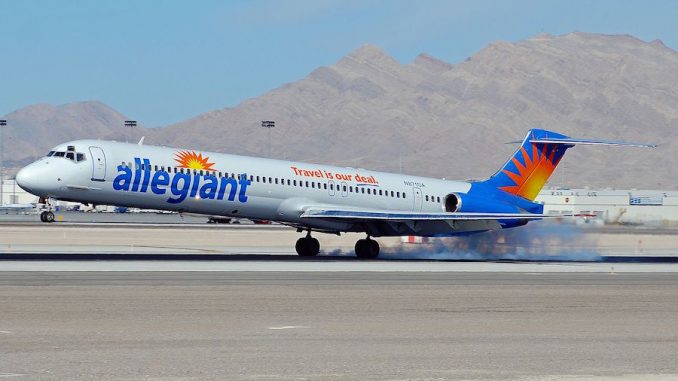 Around 200 Allegiant Air passengers were stranded in Las Vegas on Sunday night after their outbound flight to Oklahoma City was cancelled and were told that the next flight would be on Thursday.
After boarding the aircraft, passengers were deplaned due to mechanical issues with the airline's McDonnell Douglas MD-83.
Passengers then received an email from the Las Vegas-based airline saying they would receive a check for $300 in the next seven to ten business days, and if they chose not to rebook with Allegiant, the flight would be refunded.
In interviews with the stranded passengers, it was reported that they received no vouchers for food, hotels, rental cars. Additionally, the passengers were reportedly turned away by Allegiant staff at the airport and were told that security would be called if they did not leave the desk.
With all of the rental cars at the airport booked, many passengers were forced to pay $1,500 to make it back home to Oklahoma.
A spokeswoman for Allegiant has apologized profusely for the last-minute cancellation.
Incidents involving mechanical issues and cancellations have been impacting the airline a lot lately. Just last week, a flight from St. Petersburg-Clearwater, Florida to South Bend, Indiana was forced to turn around due to a malfunction with the aircraft's air-conditioning system. After the plane had landed back in Florida, many passengers had reportedly fainted due to the extreme heat on-board.
On July 10th, a flight to Dayton, Ohio was forced to divert to St. Petersburg after a smell of smoke was reported in the aircraft. The aircraft was allowed to depart hours later after a more thorough inspection. The aircraft in this incident, also an MD83, had been serviced twice before due to smells from an unknown source.
In June, a Sunday flight from Medford, Oregon to Las Vegas was rescheduled to Monday due to mechanical issues. However, passengers on this flight received a voucher for $150, plus a partial refund of their flight. Non-local passengers also received hotel accommodations for the night.
An "AvGeek" for most of his life, Akhil has always been drawn to aviation. If there is an opportunity to read about an airline, fly on a new airplane, or talk to anyone about aviation, he is on it. Akhil has been on over 20 different kinds of aircraft, his favorite being the MD-80. Additionally, he has visited 5 continents and plans to knock out the remaining two (Africa and Antarctica) soon. Based in Dallas, Akhil graduated from Texas A&M University with a degree in Management Information Systems and currently works in consulting. His dream is to become an airline executive.
Latest posts by Akhil Dewan (see all)