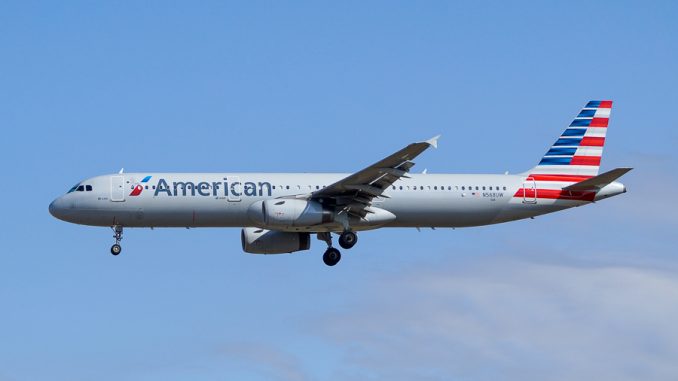 American Airlines announced their second quarter earnings late last week, beating analyst expectations with revenues of $11.1 billion and a diluted EPS excluding special items of $1.92 vs analyst expectations of revenues of $11.08 billion and an EPS of $1.87.
Second quarter net profit fell 15 percent due to increases in fuel and labor costs. This along with a flat outlook in some markets and concern over short term pricing pushed the share price down after the earnings call.
Though net income fell, earnings per share actually increased. This happened due to American's aggressive share repurchase program which has resulted in a 13 percent year-over-year reduction in their weighted average diluted share count.
Earnings per share is a metric used within the financial industry to show the portion of a company's profit allocated to each outstand share of common stock. It's a basic indicator of a company's profitability as it is net income less dividends on preferred stock over weighted average of number of outstanding shares.
As the bottom half of the ratio, the weighted average shares, decreases for American their EPS will increase even though net income can decline.
American Fueled By Revenue Growth 
Looking to revenue, second quarter operating revenues increased by 7.2 percent compared to second quarter of 2016 along with a 5.7 percent increase in total revenue per available seat mile. This is mainly due to higher yields in commercial travel and a 13.1 percent increase in cargo revenues. American's new co-brand credit card agreements also contributed $1.3 billion to revenue, as the airline continues to earn income from its two partners, Citi and Barclays.
Second quarter consolidated Passenger Revenue Per Available Seat Mile (PRASM) was up 5 percent, a metric that American has been lagging in compared to the competition. This shows their internal investments are paying off and showing quantifiable results.
Increased Costs Weigh Heavily On Profits 
Operating expenses were up 11.1 percent to $9.6 billion, and is mainly being attributed to the mid-year contract pay increases that CEO Doug Parker announced during the last earnings call. This news had many analysts and investors concerned due to the subsequent increase in costs that can be seen this quarter and moving forward.
American was also not immune from the higher fuel costs plaguing its other competitors, as American saw an increase in fuel costs as well for this quarter. Not long after its merger with U.S. Airways, American began shying away from any fuel hedging contracts.
Even with the higher costs, American is still in a financially strong position with $9.3 billion in available equity comprised of cash and investments of $6.9 billion and $2.4 billion in lines of credit.
The airline went ahead and contributed $279 million to its pension plans, which was $245 million in excess of its required contribution. The airline states that their pension plans are fully funded under the Airline Relief Act, which is a piece of legislation that allows the airline to recalculate its pension obligations to appear fully funded.
This brings up a notable point. American Airlines, along with carriers such as Delta, have been very vocal about the subsidies that Middle Eastern carriers are receiving. They allege that the subsidies are giving the Middle Eastern airlines an unfair advantage. The rebuttal from Emirates President Tim Clark was that US airlines have been receiving government assistance in the form of debt relief and reduced pension obligations.
The Airline Relief Act does indeed allow American Airlines to reduce its pension fund obligations, whether this financial assistance counts as a subsidy is inconclusive. However, it can be said that American Airlines and Delta are without a doubt receiving government assistance putting them in a somewhat hypocritical stance.
Q3 and Q4 2017 Expectations
American's estimates for the third and fourth quarters are in line with their expectations. The airline's aggressive fleet modernization program along with introduction of premium economy and basic economy will continue to increase topline growth.
In addition to changes with aircraft, American Airlines is expected to invest $1.6 billion in non-aircraft capital expenditures for integration work and projects to improve their products and operations such as airport lounge improvements.
American has stated that the UK is showing the largest PRASM improvement year-over-year due to improved premium cabin performance and the fact that they now have the best transatlantic premium cabin experience of the major carriers flying between North American and the U.K. While premium cabin performance is strong, due to the increase in low-cost carriers such as Norwegian flying similar routes, there is intense downwards pressure in the pricing environment of economy class travel.
Latin America PRASM performance will also continue to grow, as the segment is expecting to be again the best-performing entity due to American's extensive Latin American route network.
While competitor United is expecting a decrease in the Pacific markets, American has a more positive outlook as it is now past last year's capacity buildout of several Asian market flights out of Los Angeles. Meanwhile, domestic consolidated capacity will remain just about flat, leaving international capacity to be up approximately four percent due to the Boeing 777-200 retrofits and addition of new flights in the Pacific.
Cost Per Available Seat Mile (CASM) growth is expected to decelerate throughout the rest of the year with third quarter consolidated CASM, excluding fuel and special items, to be up about four and a half percent.
Analyst Become Increasingly Worried 
Analysts were less than enthused about the revenue outlook, especially given the increased labor costs the airline has taken on in the last year. There were repeated questions in regards to when things such as basic economy and investments in labor will start to appear in revenue.
This put Parker on the defensive, and be began putting emphasis on the fact that his management team and himself are focused on the long term. They are expecting additional revenues of $1 billion in 2018 along with new services and growing capacity to put them in a very strong long term position.
Whether or not all of the long term growth strategies implemented by American will actually work out is yet unknown, but what is clear is that many analysts with a focus on short-term performance will likely continue to butt heads with American's leadership team.

Hemal took his first flight at four years old and has been an avgeek since then. When he isn't working as an analyst he's frequently found outside watching planes fly overhead or flying in them. His favorite plane is the 747-8i which Lufthansa thankfully flies to EWR allowing for some great spotting. He firmly believes that the best way to fly between JFK and BOS is via DFW and is always willing to go for that extra elite qualifying mile.

Latest posts by Hemal Gosai (see all)