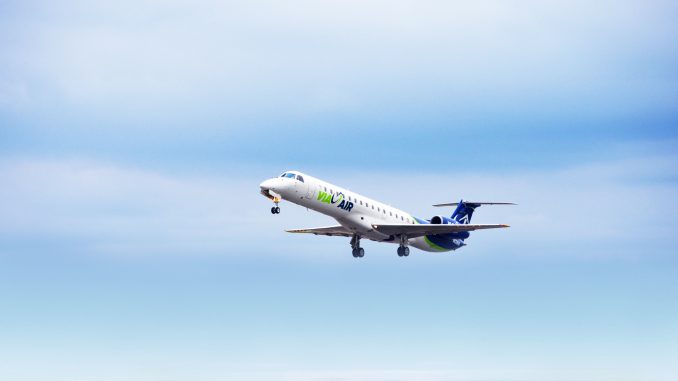 On July 26, ViaAir announced seasonal service between Austin, Texas to Steamboat Springs, Colorado. The new route will be operated by Embraer ERJ-145 starting on December 13 and running through April 1, 2018.
The CEO of LoneStar Airport Holdings, LLC, the developer and operator of the newly opened South Terminal in Austin, Jeff Pearse stated, "We're delighted that ViaAir plans to add more flights at the South Terminal at ABIA. The South Terminal's intimate and retro-vibe will offer Via passengers an airport experience as unique as Austin!"
The flights will operate from Austin-Bergstrom International Airport (AUS) to Hayden/Yampa Valley Regional Airport (HDN) each week on Wednesday, Saturday, and Sunday.
Flights will depart Austin at 11:05 a.m local time and arrive in Steamboat at 12:29 p.m. local time. The return flight will leave HDN at 6:10 p.m. and arrive back in Austin at 9:19 p.m. The carrier is also planning on adding additional flights on January 2, 4, and 9 in 2018 to accommodate returning holiday travelers.
"The new ViaAir Steamboat Springs nonstop connects Central Texas ski enthusiasts to a great winter resort destination. We welcome ViaAir's continued growth at the Austin Airport," said Jim Smith, Executive Director at Austin-Bergstrom.
According to the airline's website, ViaAir was founded in 1997 as "an indirect Air Carrier" operating 50 seat Embraer ERJ-145's under the Federal Aviation Administration (FAA) Part 121 and 30 seat Embraer EMB-120's and a Cessna Citation XL under the same administration's Part 135.
Steamboat Ski & Resort Corp's president and COO, Rob Perlman commented on the new routes stating "Working with ViaAir and Embark provides Steamboat a completely new, affordable resource for bringing winter guest to Ski Town U.S.A.®. Providing a nonstop route for guest from Austin, along with unbeatable inaugural fares, means more powder hounds can enjoy Steamboat's world-famous Champagne Powder® snow this season."
In addition to the new route, ViaAir already flies to Branson, Missouri from Austin three times a week on Monday, Friday, and Sunday using an Embraer ERJ-145.
Austin has seen a lot of expansion over the past year, driven by the growing popularity of the city. Delta recently announced temporary international service from Amsterdam for the SXSW festival. Norwegian has also announced service to London's Gatwick Airport. Delta Air Lines, Southwest, Frontier, and Allegiant have also announced updated service to the Texas capital.
Matthew Garcia became interested in aviation at the age of 12 when he installed Microsoft Flight Simulator X on his computer. He was instantly "bitten by the bug" and has been in love with aviation ever since. Matthew took his first introductory flight in 2013 and began normal flight training in February of 2015. Over the years, Matthew's love and knowledge for aviation has grown tremendously, mainly due to FSX. Garcia flies highly advanced aircraft in a professional manner on a highly complex virtual air traffic network simulating real world flying. In 2016 Matthew achieved his private pilot certificate from the FAA. Now he studies journalism at the University of Nebraska at Omaha.
Latest posts by Matthew Garcia (see all)