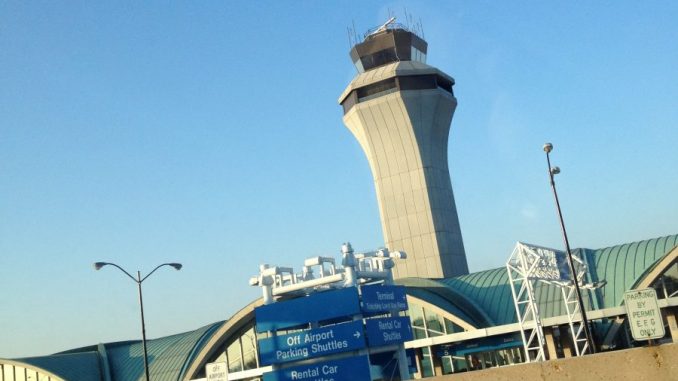 Airline hubs are generally not the kind of place that change much in terms of service. In the United States, given the last decade of consolidation among airlines, most hub airports will likely stay hubs for their respective airlines for years to come, with only growth or minor downsizing as time goes on.
However, this was not the case for St. Louis Lambert International Airport (STL). Over the past 17 years, St. Louis has seen a major decline in service along with losing their hub status from American Airlines, and seeing Southwest Airlines take over as the dominant carrier in the city.
American Airlines in St. Louis
When American Airlines completed its merger with TWA in 2001, it desired to turn STL into a reliever hub for its two main hubs at the time, Chicago O'Hare (ORD) and Dallas/Fort Worth (DFW). After some schedule modifications, TWA and its regional carrier, Trans World Express, both fully owned by American, operated over 500 daily flights out of STL in July 2001.
Unfortunately, the times of 500 daily flights would be short lived. With travel demand rapidly declining following the  September 11 attacks, traffic numbers quickly fell not only in St. Louis, but across the country. Due to less traffic at other hubs, the need for STL to be a reliever hub quickly decreased. By the end of 2001, American had cut flights to 450 per day, while many other flights were shifted to American Connection.
At the time of the first major cuts, St. Louis was American's third busiest hub behind DFW and just behind ORD. There were almost twice as many flights operated at St. Louis by American than in Miami. While traffic numbers across the country suffered, the numbers at Lambert were affected due to how flights were cut and the transfer of traffic to regional aircraft.
St. Louis quickly saw another blow to its hub status in July of 2002. Part of the reason American first introduced STL as a hub was due to slot restrictions, limiting ORD to only 155 flights per hour. However, Congress ended all restrictions at O'Hare, rendering the idea of the reliever hub as redundant as traffic was no longer forced to avoid Chicago.
By September of 2002, St. Louis had seen a 16.9% drop in traffic, a number large enough to be the eighth biggest drop in the country. This number also made it the American hub with the most traffic lost. For comparison, DFW saw a 6.7% drop while ORD saw a 6.5% drop in numbers. Unknown to many at the time, cuts within the coming year would make the 2001 cuts seem minimal.
In July 2003, American announced a major route cutting plan that included halving the number of daily flights operated at St. Louis. As of November 1, 2003 the hub went from 417 flights a day down to 207 flights daily. These cuts also saw a major decrease in total passengers at Lambert. By 2004, passenger numbers were down around seven million from the previous year.
While numbers slowly climbed over the following years, they never reached their peak, topping out at 15.4 million passengers in 2007. Due to cuts across all of American Airlines, numbers fell again in 2008 and 2009, reaching a new low of 12.8 million passengers. Much of Concourse D was shut down during 2008 in part due to the decline of American and the decline of the airport as a whole.
2009 was a year that few in the STL aviation community will forget. In September, American announced that it would be cutting Lambert from its list of hubs, and cut flights from around 200 daily to 36 daily by the following year. The cuts saw service eliminated to all but nine cities, including the airline's four main hubs.
Since its acquisition of U.S. Airways, American still operates to nine cities out of St. Louis, but all cities with service are either hubs or focus cities. In a period of 17 years, St. Louis saw American Airlines' presence go from a hub to just another city on the map.
The Rapid Growth of Southwest
Immediately following American's cuts in 2009, Southwest Airlines announced it would start service to St. Louis from six different locations, and expand farther in the following year. By the summer of 2010, Southwest had already taken over from American as the largest carrier at STL, as the airline operated 83 flights to 31 different destinations across its network.
Although passenger numbers fell to their low of 12.3 million in 2010, due to the presence of Southwest Airlines, numbers began to rise again, reaching 12.7 million by 2012. By 2013, Southwest had upped daily flights to a total of 95, serving 35 non-stop destinations. These numbers saw St. Louis break into Southwest's ten busiest cities.
Along with new flights, Southwest has shown its growth with expansion of operations within the airport, re-opening some gates in the D Concourse that haven't seen passengers since the glory days of TWA. These gates in the concourse went through renovation in the first-half of 2017, with the bill for the changes estimated to have been around $700,000.
Southwest continues to grow at Lambert, now operating to 44 destinations, soon to become 45 as the airport gains its first international destination offered by Southwest to Cancun, Mexico starting in November of 2017. Southwest does not seem to be done with expansion however. While the airline's most recent flight to West Palm Beach, Florida, was announced July 28, they still have room to grow, including adding some of the destinations that were once served during TWA and American's most prominent days.
Looking to the Future
Expansion is somewhat limited at the airport due to cost saving measures that have taken place, including the closure of parts of concourses. In addition, 36 of the airports 86 total gates are not currently usable according to the airport's official website.
Renovations have taken place on older facilities in the airport, however some were forced. The renovations that took place on Concourse C in Terminal occurred following damage during the 2011 St. Louis Tornado. Over $30 million were put back into the building, and the section of the terminal reopened in April of 2012.
While American Airlines will never return to full operating power at St. Louis, the gaps left are slowly being filled by low-cost and ultra low-cost carriers such as Frontier Airlines and Southwest Airlines. If Southwest continues to grow in St. Louis, it can only mean good things for the city and the airport.
Jace has been working at AirlineGeeks for nearly three years. Born in Seattle, Boeing and aviation quickly took over his life and he never stopped looking up. Jace enjoys plane spotting and taking trips just so he can fly. He is currently studying at Embry-Riddle Aeronautical University while earning his Bachelors of Science in Air Traffic Management.
Latest posts by Jace Moseley (see all)