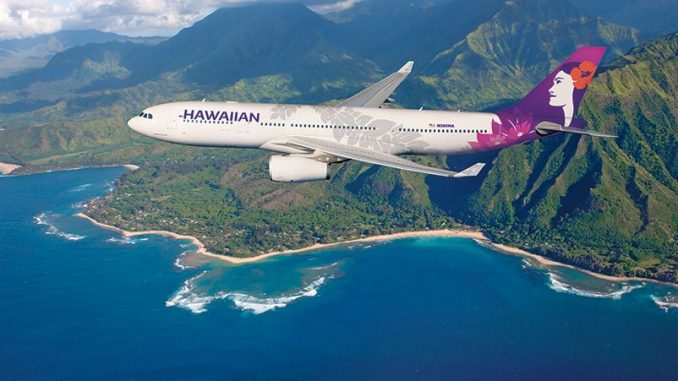 Honolulu-based Hawaiian Airlines is partnering with LivePerson, Inc., a cloud mobile and online messaging solutions provider, to provide two-way SMS messaging for its passengers.
With customer service issues among airlines on the rise lately, Hawaiian hopes to offer a more personal experience for its passengers, by allowing them to respond directly to texts, at their leisure, instead of having to wait in a call queue or at the reservations desk.
Most carriers already offer one-way texting to their passengers. Passengers can register their mobile phone numbers to receive text alerts and updates from the airline regarding flight updates, check-in reminders and gate changes.
However, Hawaiian's new service would allow for one of Hawaiian's customer care advisors and the passenger to have a direct conversation, in which the passenger can have multiple conversations and view previous messages.
"It's very popular because there's no learning curve," said Tracy Behler, Senior Director of Online Experience at Hawaiian Airlines. "In fact, as soon as guests saw the option, they embraced messaging. The number of conversations occurring through messaging exceeded our original projections since we implemented it in May, and our customer satisfaction with messaging has been higher than with voice, while our agents are simultaneously more efficient."
The service has been in a pilot program since May using LivePerson's LiveEngage platform, and should become available to all passengers in the next few months.
Behler continued: "This launch is a first phase in our plan to innovate how we connect to customers. In the future, we're looking to add other touchpoints, such as a messaging option embedded within our app, to make it really simple and stress-free to contact us, anytime, anywhere."
An "AvGeek" for most of his life, Akhil has always been drawn to aviation. If there is an opportunity to read about an airline, fly on a new airplane, or talk to anyone about aviation, he is on it. Akhil has been on over 20 different kinds of aircraft, his favorite being the MD-80. Additionally, he has visited 5 continents and plans to knock out the remaining two (Africa and Antarctica) soon. Based in Dallas, Akhil graduated from Texas A&M University with a degree in Management Information Systems and currently works in consulting. His dream is to become an airline executive.
Latest posts by Akhil Dewan (see all)