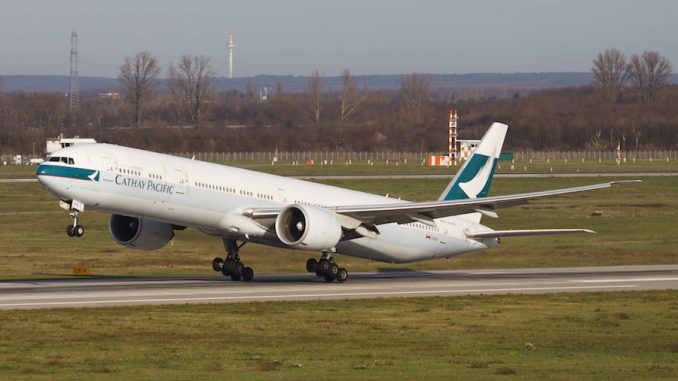 On Friday, China Southern completed its share issuance to American Airlines, allowing the Dallas-based carrier to take on a 2.68 percent stake in the Chinese airline. The move follows a continued path of global airlines forging equity stakes, rather than just partnerships, to develop their networks.
In recent years there have been several similar announcements made, such as Delta's involvement in a five airline equity swap along with United purchasing a 5 percent stake in Azul in 2015. However, what makes American's partnership unique is that it creates a potential collision course as it attempts to partner with both China Southern and Cathay Pacific.
Partners in oneworld
While American does not have a financial stake in Cathay Pacific, the two were founding airlines in the oneworld alliance, and have historically been partners across the Pacific. Both have agreed to numerous codeshare agreements in the U.S. and throughout Asia, which has allowed each to earn more revenue and share passengers on global itineraries.
With its global hub in Hong Kong, Cathay Pacific has historically benefited from high-yield business travelers, particularly in banking and finance. However, as China has grown over the last several decades, so have its global business hubs in cities like Beijing, Guangzhou and Shanghai.
While Shanghai has taken the lead as the financial center of China and Beijing remains the capital of the country, it is Guangzhou that has become the main manufacturing hub for the Pearl River Delta, and therefore become crucial for trade. Where this eventually ties up is that with its hubs in Guangzhou and Beijing, China Southern presents an opportunity for American to gain a further foothold to travel in China.
Non-Alliance Agreements
China Southern, which was established in 1988 as one of the "Big Three Airlines" after consolidation, remains an entity owned by the Chinese government. The airline has benefited greatly in recent years after becoming a hub-and-spoke carrier, and has seen rapid passenger growth both domestically and internationally.
Now with greater involvement between the two airlines, and with Guangzhou and Hong Kong being a mere two-hour train ride from one another, the question becomes whether or not American needs both Cathay Pacific and China Southern to grow traffic to and from China.
For its own part, Cathay Pacific hasn't shied away from partners outside of oneworld as well. The Hong Kong-based airline has had a partnership with Alaska Airlines since 2003 and just began a partnership with Lufthansa in March of this year.
Regardless of what has historically held true, American remains connected to both airlines. Only time will tell whether this plan remains sustainable, but as of now the continued partnerships only benefits global travelers.

Joe joined AirlineGeeks in 2014, and in his current role as Editor-in-Chief manages a growing team of writers both in North America and Europe. He enjoys spending the bulk of his time researching, learning and analyzing the latest trends in the airline industry, all while mentoring new members of the AirlineGeeks team who seek to do the same. Areas of research include revenue management, codeshare and alliance partnerships and airline financial results.

Latest posts by Joe Pesek (see all)