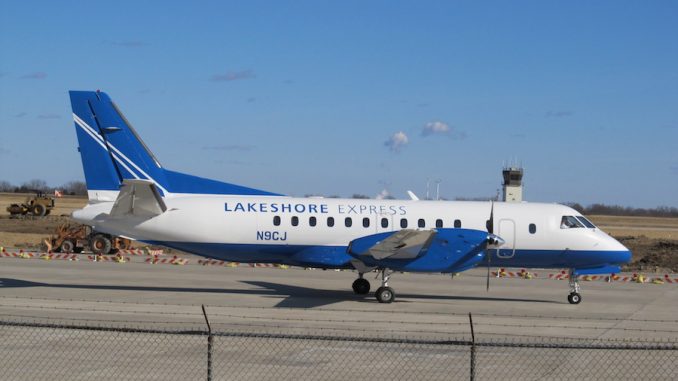 After the success of SeaPort Airlines in the Pacific Northwest by offering low-cost airfare with an alternative security entrance, investors in the Chicago area plotted to repeat success, but this time in the Rust Belt.
Lakeshore Express started operations in 2012 by operating flights between Chicago-Midway to Pellston and Lansing, Michigan. The carrier started with two Saab 340s that originally flew with now defunct Colgan Air.
The airline prided itself on offering upper class service for a low-cost. Airfare averaged around $100 one way, but this fare included one carry on bag, one checked bag and free alcoholic beverages and snacks. Legroom onboard Lakeshore was generous as well, hoping that this along with the other benefits would convince travelers that it offered a unique advantage versus other airlines or simply driving a car.
Lakeshore Express heavily marketed the fact that passengers only needed to arrive 30 minutes before departure due to shortened security lines in hopes of keeping people from flying through Chicago O'Hare or driving. The airline was marketed mostly in Michigan, with the CEO of Lakeshore personally renting a Boeing 737 to charter passengers to the Rose Bowl for Michigan State University's Rose Bowl appearance.
In order to make ends meet, Lakeshore Express started to offer charter flights for sports teams, specifically NCAA college basketball teams. Due to the lack of aircraft, two more Saab 340s were acquired to do the charter work. Despite the slow start, Lakeshore Express continued to expand, offering service to Detroit via Oakland County Airport.
However, the airline's goal of seeing a SeaPort-like success was short lived, and the airline suspended operations on April 1, 2014. The CEO vowed that the carrier would make a return as soon as new investors would be found.
By 2015 it appeared that the investors never came, the airline made one last ditch effort to return to the skies by creating a Indiegogo page hoping people would back the carrier. The goal set on the website was to have $500,000 by Memorial Day. Sadly, the goal was not achieved, and the carrier never restarted operations.
The fleet of Saab 340s, which were owned by Pentastar Aviation of Detroit, were returned to the Michigan-based carrier before being transferred to Louisiana-based GLO Airlines, which still operates three of them today.
Lakeshore Express made a small reappearance in the end of 2016 as the carrier claimed that it is looking for investors in the Cleveland market. is yet to be determined if anything will come from this plea for financial help. For the meantime, the airline remains aircraft-less and grounded.

Ian has been an avgeek since 2004 when he started spotting US Airways Express planes at Johnstown Airport in Johnstown, Pennsylvania. He now lives in Wichita and enjoys spotting planes in Kansas City and Wichita as well as those flying at high altitudes over his home. He is a pilot with more than 40 hours of experience behind a Cessna 172, Diamond DA-20, and Piper PA-28. He flies Southwest Airlines on most of his domestic flights and Icelandair when flying to Europe. Ian's route map spans from Iceland and Alaska in the north to St. Maarten in the south. He is a student at Wichita State University, where he will study aerospace and mechanical engineering.

Latest posts by Ian McMurtry (see all)