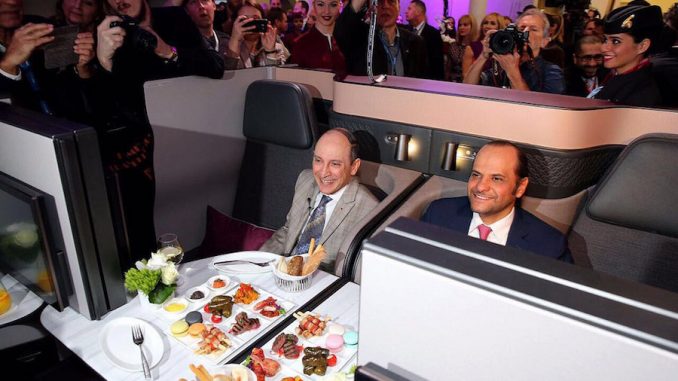 The International Air Transport Association (IATA) has just elected Qatar Airways' Chief Executive, Akbar al-Baker, as the new chairman of the board, effective June 2018.
Akbar al-Baker will take over from current chairman, Goh Choon Phong, current Chief Executive Officer of Singapore Airlines on the rotating one-year term position. Akbar al-Baker will commence his term at the end of IATA's 2018 Annual General Meeting (AGM) in Sydney and will continue until the end of its 2019 AGM.
al-Baker said "I am honored to have been chosen by my fellow board members to head this important body, at a time when the industry faces numerous challenges on a multitude of levels. To represent and lead the IATA Board of Governors is a tremendous privilege, and I am grateful for the opportunity to represent an industry that plays such a vital role in the global economy."
IATA, which was founded in 1945, serves as the trade association for the world's airlines, accounting for 275 airlines which make up 83% of the world's air traffic. The organization supports a variety of aviation activities, offers support to the industry's members and helps articulate industry policies on critical issues.
The election of Al Baker to this prestigious role comes as no surprise. Since joining Qatar Airways back in November 1996 he has helped bring about the development of Qatar Airways from a small regional carrier into one of the world's most highly recognized global airlines. The airline was recognized by passengers with the award of Skytrax Airline of the Year 2017, the fourth time the carrier has received the award.
al Baker continued by saying "For more than two decades I have lived and breathed aviation, and I look forward to working alongside the Board of Governors to champion passenger rights and improve security standards across the industry, as well as continuing to promote the rights of freedom of flight for all."
Josh is a long-term aviation enthusiast and aspiring commercial airline pilot. From a young age, he has immersed himself in all things aviation. From plane spotting at local airports and airfield to racking up frequent flier miles on trips abroad, Josh is a huge AvGeek at heart. He graduated from university in September 2017 with a first class Bachelor of Science degree in Air transport. He completed his pilot training, gaining his Frozen ATPL in November 2017 upon completion of his Multi-Engine Instrument rating and Multi-crew/Jet orientation course. He currently has around 230 hours of flying experience in various aircraft. He hopes to join an airline as a first officer by the end of 2017.

He frequently flies on one of his favorite airlines, British Airways, and is an avid Avios collector and British Airways Executive Club member.
In his spare time, while not studying, flying or immersing himself in aviation he enjoys spending his time volunteering in a variety of roles and running a blog to help other aspiring pilots pursue their dream.
Latest posts by Joshua Drabble (see all)