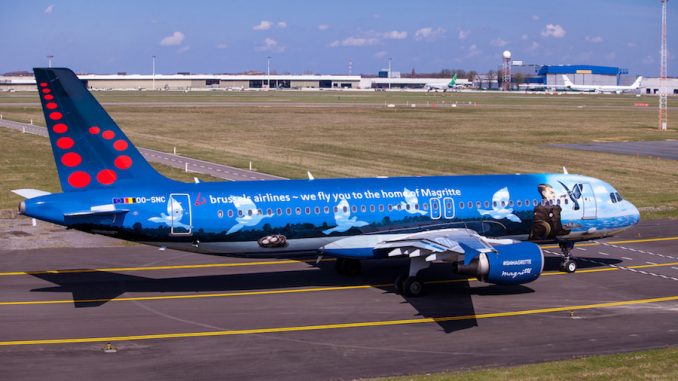 Join MegaDo and AirlineGeeks for an exclusive opportunity to see behind-the-scenes at Vienna and Brussels airports while also being onboard a charter flight between Vienna, Brussels, and Palma de Mallorca from September 19-22, 2017.
If you don't want to try your luck in the contest, email [email protected] as there are a few people who are interested in transferring a ticket for the airline enthusiast extravaganza. Tickets include…
A reserved seat on our exclusive Star MegaDo flight operated by Brussels Airlines with full meals and an open bar in all classes of service.
Access to all events and receptions.
Bus transportation to the events, when mentioned on the schedule.
Positioning flights and hotels are extra and participants are expected to make their own arrangements.
See the full schedule below along with more information on how to enter:
Tuesday, September 19
---
Arrive in Vienna
6pm-8pm: Registration at the NH Vienna Airport Conference Center hotel, located across from the arrivals hall at Vienna Airport. Please bring your passport in order to pick up your badge
Overnight in Vienna at the NH Vienna Airport Conference Center hotel or at the hotel of your choice.
Wednesday, September 20
---
A day at VIE with Austrian
Presentations by Austrian Airlines and Vienna airport executives, and product overviews.
Group 1 tour: Airport operations: a fascinating look at the teams, tools and processes that keep VIE running, including: winter service and snow clearing, police dogs, and the fire department.
Group 2 tour: Austrian technical base: kick the tires! We'll check out the Austrian hangars, and tour maintenance operations.
Group 3 tour: Do&Co: an insider's look at the fanciest airline caterer. We'll head out to the Do&Co facilities and production line (located offsite.)
7pm: Star Alliance 20th anniversary party
Join us for a celebration of the 20th anniversary of Star Alliance at the VIP Terminal, featuring a rooftop terrace!
Bring your #avgeek-ness, good looks, and mingle with fellow MegaDo-ers and airline geeks!
Champagne will be flowing and heavy appetizers will be served.
Overnight at the NH Vienna Airport Conference Center hotel or at the hotel of your choice.
Thursday, September 21
---
MegaDo charter flight: VIE/BRU/PMI
6 am: Check in for the charter flight opens at VIE
Participants make their own way to the airport. Be sure to be on time as we are unable to wait for latecomers.
8:00 am: Charter flight VIE/BRU
The MegaDo party flight takes off from Vienna airport. Our aircraft will be an Airbus A320 operated by Brussels Airlines. Breakfast is served on our 576 mile flight.
10 am: A day with Brussels Airlines at BRU
The MegaDo flight lands at Brussels airport.
Join a behind-the-scenes tour of Brussels airport:
Visit the technical base
Tour the Brussels Airlines Operations Center
Meet and greet with the CEO of Brussels Airlines
Meet Leonidas, the famous Belgian chocolatier
3:30 pm: Charter flight BRU/PMI
Lunch is served on our 788 mile flight.
6pm: Arrival in PMI
Land at Palma de Mallorca airport.
Bus transportation to the Park Hyatt Mallorca.
7:30pm: World Of Hyatt Sunset Welcome Party
Join us for a cocktail reception at the Park Hyatt Mallorca.
Overnight at the Park Hyatt Mallorca (host hotel).
As an alternative to the Park Hyatt Mallorca, consider the two Universal hotels on the beach — about a 20 minute walk or less than 5 min ride. Shuttle transfers to/from the party will be provided.
Friday, September 22
---
A day with Hyatt at the Park Hyatt Mallorca.
3pm: Event concludes – Optional bus transportation back to the airport at 3:30pm.
7pm: Optional – Join the MegaDo team for dinner
Join the MegaDo crew for dinner at Porxada De Sa Torre, a fantastic pig restaurant. Enjoy a suckling pig dinner, Iberico Ham starter (substitute for seafood) with 2 glasses of wine for 55 USD per person. We will eat outside weather permitting.
The schedule is subject to change. A detailed schedule will be provided on the first day of the event and will show where to meet on a daily basis. Participants are expected to meet on time – we are unable to delay our flight schedule in order to wait for latecomers. Participants who miss scheduled transportation to an event will need to arrange their own transportation to the event at their own cost.
---
Want to have a shot at scoring a seat at this exclusive event? Follow these steps to enter:
Follow @StarMegaDo and @AirlineGeeks on Twitter 
Like MegaDo and AirlineGeeks on Facebook 
Comment below with why you'd like to win a seat on this flight/adventure by close of business (ET) on Friday, September 1, 2017. Winners will be selected at random and must be able to provide their own transportation to Vienna and from Palma de Mallorca. 
Visit MegaDo.com for more information 
See below for official rules
---
The Star MegaDo 8 booked on this reservation system is a foreign originating public charter flight operated under Title 14 CFR Part 380 by a recognized foreign air carrier by the United States Department of Transportation. All flights are operated by Brussels Airlines in compliance with any applicable European Charter Standards and regulations. All tickets are sold in accordance with the authorization granted to MegaDo by the US Department of Transportation for a foreign originating public charter under Title 14 Part 380.3(b). The conditions applicable to the charter in the operator participant contract are available here.
The Waiver, Release and Indemnification which must be signed by each participant at registration is here.
AirlineGeeks.com began in February, 2013 as a one-man (er… teenager, rather) show. Since then, we've grown to have 20 active team members, and yes, we're still growing. Some of us are looking to work in the aviation industry as professionals when we grow older. Some of us are still trying to decide what we want to do. That's okay though, because we're all here for the same reason: we love the airlines. We're the youngest team of airline industry journalists out there.
Latest posts by AirlineGeeks.com Staff (see all)