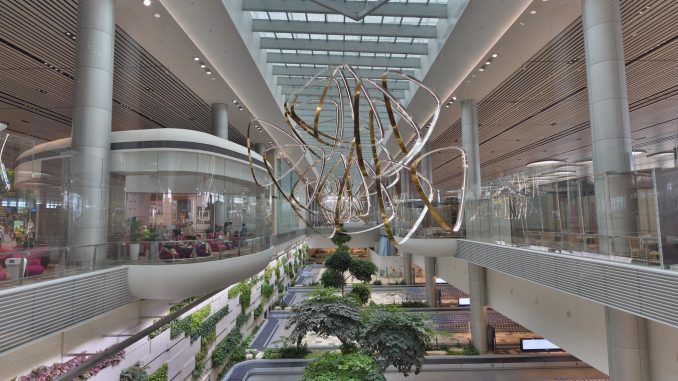 Singapore Changi Airport is due to open its brand new Terminal 4 at the end of October. The new terminal, which will officially open on October 31, is a stepping stone towards the future of air travel, introducing new automated systems to help make passengers' experience from check in to boarding quicker and easier.
The terminal is expected to house nine airlines within the first week. Cathay Pacific and Korean Air will be the first two carriers to make the move on Oct 31, with the remaining seven airlines, the AirAsia Group consisting of four carriers, Cebu Pacific, Spring Airlines and Vietnam Airlines will be making the move between Nov 2 and Nov 7.
The first flight to the new terminal, CX 659, is due to touchdown from Hong Kong shortly before dawn on Oct 31 followed swiftly by the departure of the return flight, CX 650 to Hong Kong at 6:50 a.m.
Transport Minister Khaw Boon Wan announced the opening on Facebook on Wednesday, describing it as a "Labour of love" after more than 100 trials, with 2,500 airport staff and 1,500 volunteers took place since the terminals completion last year.
Changi Airport T4 will open its doors on Oct 31. Situated at the heart of #T4, the unique kinetic sculpture Petalclouds is one photo spot that visitors will not miss. The graceful movements are a combination of art and technology at its best, just like the #ChangiExperience. #ChangiAirport is Singapore's pride, as it always will be.

Posted by Khaw Boon Wan on Friday, September 8, 2017
"After endless rounds of testing and fine-tuning, we are ready to open T4. Another big step forward in our journey as a global #airhub" said Mr. Khaw, coordinating Minister for Infrastructure.
The terminal is capable of accommodating up to 16 million passengers a year, and despite being only half the size of T3, it can handle two-thirds of its traffic. It is expecting to up the annual capacity of the airport to 82 million passengers.
The Changi Airport Group (CAG) stated that a "small number" of checks and reviews will be completed in the final phase of preparations prior to the terminal's opening.
Tan Lye Teck, CAG's executive vice president of airport management said that "The past few months of tests and trials have been a very crucial period for us….. not only to ensure that the systems work well, but also to understand how passengers navigate the new terminal."
The trials, which also included a selection of commercial flights at the new terminal, were utilized to identify areas of improvement while feedback from trial participants was used to fine-tune systems and processes.
"We will take the next few weeks to complete the last set of trials as we prepare for the commencement of operations at T4," Mr Tan noted. During the trials, volunteers took on the roles of passengers, utilizing the terminals new facilities including the new Fast and Seamless Travel (Fast) self-service options at check-in, bag drop, immigration and boarding.
The new efficient services and processes comes at a crucial time when Changi Airport is continually competing with other regional airports for a share of the market. The International Air Transport Association, referred to as IATA, predicts that by 2030, air travel in Asia Pacific will be greater than Europe and North America combined. The opening of this new terminal will be a welcomed addition to both passengers and the airport when it opens next month.
Josh is a long-term aviation enthusiast and aspiring commercial airline pilot. From a young age, he has immersed himself in all things aviation. From plane spotting at local airports and airfield to racking up frequent flier miles on trips abroad, Josh is a huge AvGeek at heart. He graduated from university in September 2017 with a first class Bachelor of Science degree in Air transport. He completed his pilot training, gaining his Frozen ATPL in November 2017 upon completion of his Multi-Engine Instrument rating and Multi-crew/Jet orientation course. He currently has around 230 hours of flying experience in various aircraft. He hopes to join an airline as a first officer by the end of 2017.

He frequently flies on one of his favorite airlines, British Airways, and is an avid Avios collector and British Airways Executive Club member.
In his spare time, while not studying, flying or immersing himself in aviation he enjoys spending his time volunteering in a variety of roles and running a blog to help other aspiring pilots pursue their dream.
Latest posts by Joshua Drabble (see all)