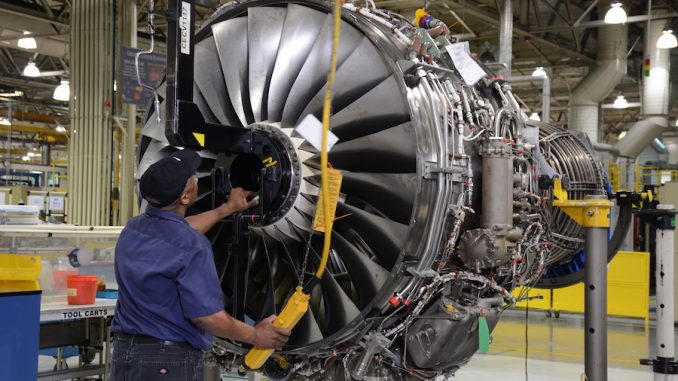 Earlier this week, United Technologies Corp agreed to purchase Rockwell Collins, Inc. for approximately $23 billion. This proposed merger has the potential to significantly shake things up within the aircraft-parts manufacturing industry.
United Technologies Corp is among the largest aircraft-parts manufacturers in the world, producing a considerable amount of aerospace systems including aircraft engines, which is done through United's subsidiary, Pratt & Whitney.
Rockwell Collins is also a major player in the aircraft industry, as it is one of the main suppliers of digital avionics such as touchscreen cockpit displays. Rockwell also owns the major aircraft seat manufacturer, B/E Aerospace, which has its seats featured across many of the global airlines.
If United Technologies' $23 billion acquisition for Rockwell is allowed to go through, United would be able to outfit planes from radome to tail. So far, most analysts believe that the deal will be approved by the government due to the fact that there is very little overlap between the products offered by both companies.
Threat to Aircraft Manufacturers
This news is exactly what has major aircraft manufacturers Boeing and Airbus worried. Aircraft suppliers, such as United and Rockwell, generally enjoy larger margins on their sales than the aircraft manufacturers do. Any consolidation in the aircraft-parts industry could be used as leverage against Boeing and Airbus, which in turn could see their costs rise.
Both Boeing and Airbus have a combined backlog of aircraft that are worth almost $1 trillion. However, parts represent more than half the value of each aircraft and are mostly made by dozens of suppliers. When such a significant portion of the costs associated with building an aircraft are the parts, aircraft manufacturers are right to be worried.
Boeing has already said it was "skeptical" that the acquisition would benefit airline customers of the broader industry. Airbus is already frustrated with the company over their Pratt & Whitney engine delays for new Airbus A320 aircraft.
Aircraft manufacturers are not just concerned about the cost of parts going up, but also the cost of service and repairs that could increase. Such repairs have for quite some time been the most profitable business in the aircraft industry, with some estimating that the commercial aviation service business is worth approximately $76 billion a year.
Building More In-House
As a result, Boeing and Airbus have moved to start building more of their parts in-house. Boeing will soon start developing motors that move wing flaps, and Airbus is planning on building its own nacelles, which are metal casings that house engines. The in-house nacelle production is a direct shot across the bow of United Technologies which is one of the largest nacelle suppliers.
Furthermore, Boeing will be building the wings for their new Boeing 777X aircraft in their plant in Seattle instead of purchasing them from a supplier, which was done for the Dreamliners.
Boeing and Airbus in-house manufacturing is still in the early stages and has yet to have any meaningful effect on aircraft-part suppliers, but only time will tell. With a likely chance that the deal between United and Rockwell will go through, Boeing and Airbus will need to look to the future and possibility reevaluate the necessary business decisions to enable profit growth for the years to come.

Hemal took his first flight at four years old and has been an avgeek since then. When he isn't working as an analyst he's frequently found outside watching planes fly overhead or flying in them. His favorite plane is the 747-8i which Lufthansa thankfully flies to EWR allowing for some great spotting. He firmly believes that the best way to fly between JFK and BOS is via DFW and is always willing to go for that extra elite qualifying mile.

Latest posts by Hemal Gosai (see all)