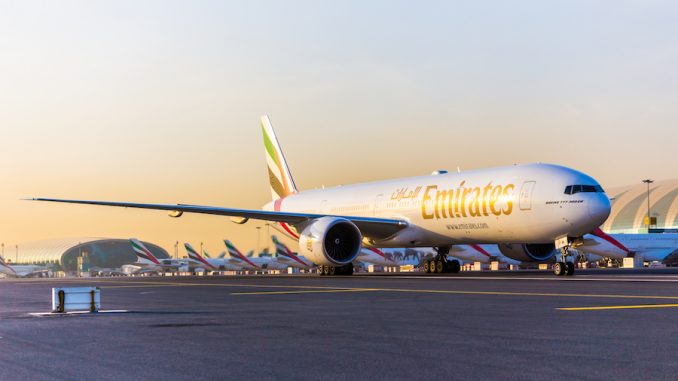 Dubai International (DXB) has always had a special place in my heart. Some of my first memories as a child have taken place while flying through Dubai. But back then, it was a completely different airport.
In 2016 alone more than 83 million people flew through Dubai International (DXB) to more than 240 destinations worldwide. Imagine that, 83 million different stories all passing through one airport. And this year, the airport is poised to surpass last year's numbers.
According to Dubai Airports, "On a full day Dubai International (DXB) handled approx. 240K passengers (average per day) in the first 7 months of 2017 in DXB across all its terminals (T1,T2,T3)."
With a takeoff happening nearly every minute, the skies above Dubai are constantly busy. Like any major city, Dubai International Airport also has a morning rush hour period. From the hours of 7 a.m. until 11 a.m., there are 145 departures and 63 arrivals at the airport.
With all those airplanes come all their passengers and cargo. During that same morning time period, the airport handled a total of 51,000 passengers who were arriving, connecting, and departing from DXB. That's 21.25 percent of the airport's average daily traffic all happening within a 4-hour period.
If you're an AvGeek then you probably love to use flight tracking software to see where an aircraft is headed. Some of the flights that depart during this period head to destinations such as Tokyo Haneda (EK312), London Heathrow (QF9), Toronto (EK241), Johannesburg (EK763), and Sydney (EK412). You could find a flight departing to nearly every continent on the planet during this period.
Some of the airplanes departing during this period were Boeing 777s, Boeing 737s, Airbus A380s, and Airbus A321s. But of course, the largest number of airplanes in Dubai belong to its hometown airline Emirates.
Emirates is the owner and operator of the world's largest fleet of 777s and A380s, and with their 76 billion dollar order in 2013 for 214 more 777s you can be sure you'll see an Emirates 777 flying in Dubai for a long time to come.
Below we added some photos taken during our morning sunrise photo op at Dubai International. And as always we couldn't have done this without the incredible hospitality and support from Dubai Airports. Additionally we'd like to thank the airside operations team for driving us around the airport and helping us capture some amazing photos.
All photos by AirlineGeeks.com Lead Photographer Hisham Qadri 
This story was updated on Sep. 21, 2017 at 8:47 p.m. ET to change name formats for Dubai International (DXB).
AirlineGeeks.com began in February, 2013 as a one-man (er… teenager, rather) show. Since then, we've grown to have 20 active team members, and yes, we're still growing. Some of us are looking to work in the aviation industry as professionals when we grow older. Some of us are still trying to decide what we want to do. That's okay though, because we're all here for the same reason: we love the airlines. We're the youngest team of airline industry journalists out there.
Latest posts by AirlineGeeks.com Staff (see all)