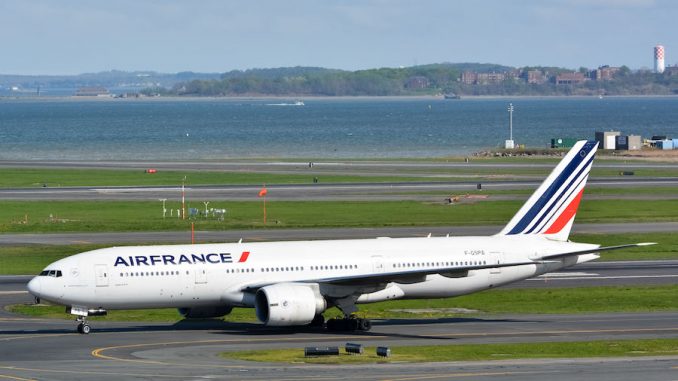 Air France has just announced its destination for nonstop service between Paris-Charles de Gaulle and Seattle- Tacoma International Airport. The new service, which launches on March 25, 2018 will be operated by a Boeing 777-200 aircraft. This flight will supplement the current daily Paris flight operated as part of its joint venture with Delta Air Lines.
The Boeing 777-200 aircraft expected to operate the route will be equipped with Air France's latest long-haul travel cabins with Business, Premium Economy and Economy cabins with a capacity of 280 to 312 seats. The airline expects to operate the service up to five times a week.
The flight schedule estimates the aircraft will depart Paris at 1:30pm, arrive in Seattle at 2:20pm, and depart back to Paris at 4:30pm.
This latest service to Seattle, known as the Emerald City, is in addition to the airline's current services offered to the U.S. as part of the airline's joint venture with Delta Air Lines. During the winter season, Air France is expecting to serve 12 destinations in the U.S. from its Paris- Charles de Gaulle Hub and Paris Orly. Destinations for the seasonal routes include, Atlanta, Chicago, Houston, Boston, Detroit, Los Angeles, Minneapolis, Miami, New York JFK, Seattle, Washington and San Francisco.
The joint venture between Air France – KLM, Alitalia and Delta Airlines consists of over 270 transatlantic flights and a fleet of 140 aircraft, providing customers with an extensive network with varied frequencies, preferential rates and harmonized services across the Atlantic.
The joint venture has been organised around numerous $hubs, including Amsterdam-Schiphol, Atlanta, Paris-CDG, Detroit, Minneapolis, New York-JFK and Rome-FCO, Cincinnati, Salt Lake City and Los Angeles.
The venture represents over 20% of total transatlantic capacity, generating approximately $10 billion in annual revenue.
Josh is a long term aviation enthusiast and aspiring commercial airline pilot. From a young age he has immersed himself in all things aviation. From plane spotting at local airports and airfields, to racking up frequent flier miles on trips abroad, Josh is a huge AvGeek at heart. He is currently in his third and final year of university in the United Kingdom, studying for a degree in Air Transport alongside his full flight training towards a frozen Air Transport Pilot's license. He currently has his PPL and CPL with around 200 hours of flying experience in various aircraft and is expected to start his Instrument rating later this year. He frequently flies on one of his favorite airlines, British Airways and is an avid Avios collector and British Airways Executive club member.

In his spare time, while not studying, flying or immersing himself in aviation he enjoys spending his time volunteering in a variety of roles and running a blog to help other aspiring pilots pursue their dream.
Latest posts by Joshua Drabble (see all)