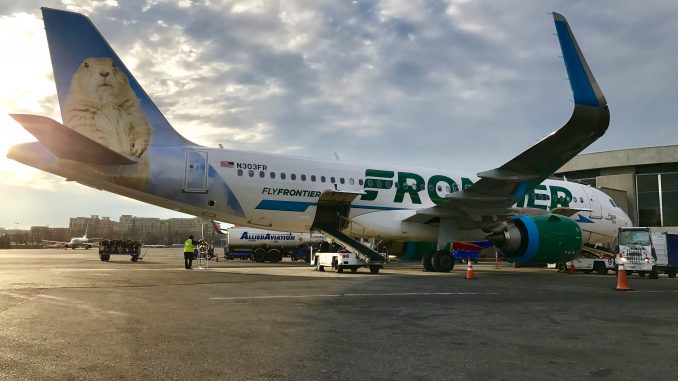 In the past few months, ultra-low-cost carrier Frontier Airlines has been announcing new routes between unlikely city pairs. Routes such as Tampa to Colorado Springs, Miami to Buffalo, and Austin to Columbus have become the new normal for the Denver-based airline, departing from the hub-and-spoke model that has been dominating the country for decades and instead favoring the point-to-point model.
Point-to-Point Expansion
Although it only has one hub in Denver, the airline has nine focus cities: Atlanta, Chicago-O'Hare, Cincinnati, Cleveland, Las Vegas, Miami, Orlando, Philadelphia, and Trenton. While some of these are popular hubs, others are smaller cities that have been left out in the cold by the major carriers. Delta Air Lines has scaled down its Cincinnati hub, United Airlines has reduced its size in Cleveland, and Trenton has remained ignored by most airlines.
Passengers in these cities abandoned by carriers have been forced to deal with connecting flights, expensive tickets and smaller planes, until the arrival of Frontier Airlines. Although still operating partially as a hub-and-spoke airline out of its main Denver hub, most of Frontier's flights do not go through Denver at all. For example, Frontier recently started service to six cities from Long Island McArthur Airport, only two of which are focus cities.
Since Frontier only uses members of the cost-efficient A320 family for its flights, passengers are not relegated to small regional jets, no matter how short the distance or small the passenger load. There is little variation between the aircraft, besides the different animals on the tail, so customers can expect consistency on every flight. The larger jets also give both the smaller airports and passengers a sense of importance and dignity.
Low Ticket Prices
Frontier also prides itself on its cheap airfare. Recently, Frontier announced a sale that included 90% off the base fare of its tickets. Frontier also severely reduced fares on its new 1,000+ mile routes from Long Island to Florida and Louisiana to less than $40 roundtrip. Although base fares on the airline are usually low, as the airline collects more in optional fees than it does airfare, that can translate to a big difference on expensive flights.
Of course, these ticket prices do not include the optional fees that Frontier charges, should you opt for the additional services they provide. Frontier charges for everything from an advance seat assignment to a soda on the plane. However, these fees are strictly optional and serve to reduce the price of the ticket. Fees generate more revenue than airfare because fees are not taxed, meaning Frontier keeps 100% of that revenue.
My Experience Flying on Frontier
Taking advantage of these low ticket prices out of nearby Long Island McArthur Airport, I flew down to Tampa on Frontier. The flight down to Tampa was nearly sold-out. The typical passenger on this flight was a vacationer, with very little business-type travelers. The line for the baggage check-in counter was packed, meaning the airline would be collecting a large sum of non-taxable baggage fees.
Upon arriving, I quickly realized that I was not Frontier's typical passenger. I was traveling light, carrying only my phone, wallet, headphones, and a charger, with no need to check or carry on a bag and pay a fee. I had not selected my seat, opting to have one randomly assigned, further depriving Frontier of fee revenue. Lastly, I did not buy any on-board snacks or drinks, opting for the complimentary cup of water, instead.
The return flight was the opposite of the flight I'd taken down to Tampa. The 230-seat Airbus A321 was at less than half capacity, as I found out. This flight would not be the money maker that the flight to Tampa was. But, Frontier is still making money because although it may not get revenue from the airfare, the optional, tax-free fees they are selling will, hopefully, cover the difference.
Low-Cost Point-to-Point: Been There, Done That?
While some may say that Frontier is simply following Southwest Airlines' lead by offering point-to-point service, Southwest has only taken that model so far. Frontier is offering something that Southwest isn't: choices. While other airlines are experimenting with this idea of so-called "basic economy" fares, where Frontier excels is giving passengers the ability to pay only for what they want and nothing that they don't.
On Southwest, there are no baggage fees. But, if you don't check or carry on a bag, you're still paying for the option to do so. Just like on major carriers, where if you don't order a complimentary drink it's still included in the price of a ticket. By selling bare-bones airfare and charging for everything else, Frontier is allowing people to travel for however much they want to pay, and not charging them for what they don't want or need.
Why Frontier is Beneficial to Travelers
While other airlines may charge more for flights, therefore making you feel like you overpaid and received fewer services, on Frontier, it's all what you make of it. You can pay as much or as little as you want.
On this airline, you're in charge and the ball is in your court. There are some who believe the journey is the destination and some who believe the journey is the journey. Frontier Airlines, in my opinion, serves the latter. When traveling, needs are bound to vary by the type of trip, and sometimes you only need the basics.
Frontier's business model enabled me to fly over 1,000 miles from Long Island to Tampa and back in one night for less than the cost of a tank of gas for my car, all because I wasn't paying for services that I wasn't using. Although I am Frontier's non-standard traveler, their model encourages people like me, people who are fine with paying the bare minimum and receiving the bare minimum, to fly without breaking the bank.
Frontier's point-to-point route network also helps the forgotten travelers, those who have been abandoned and ignored by the major airlines. Frontier's business model makes the unpopular routes profitable, benefitting both the passengers and its bottom line. If you want to fly from Austin, Texas to Ontario, California, you no longer have to connect through Phoenix on a regional jet, and you may be saving money also by using Frontier's new route.
Downside to Flying on Frontier Airlines
Despite all its positive features, Frontier is not without its negatives. There are a few criticisms of Frontier, as with any ultra-low-cost carriers. First, because the airline is operating so many point-to-point routes, often times there is only one flight per day between two cities.
While this normally is not an issue, a delay or cancellation could leave customers stranded, as sometimes there is no later flight and airlines like Frontier don't commonly have agreements with other airlines to re-accommodate passengers. Again, this only occurs in the most extreme circumstances.
Second, as an ultra-low-cost carrier, Frontier finds every possible way to save money. One way they achieve this is by putting as many seats on a plane as possible, maximizing passenger loads. The Airbus A321, for example, has 230 seats, compared to 190 on JetBlue and 181 on American. This also means that the seats are basic. On Frontier, the seats are thin, pre-reclined, have limited legroom, and have miniature tray tables.
Lastly, while their optional fees are optional, they do push them hard. Almost every interaction you have on Frontier's website or when checking-in will come with the airline asking if you'd like to purchase extras. While I do understand the need for them to generate revenue, it does get frustrating constantly saying no after a while.
Changing the Game for the Better
While Frontier is banking on the typical vacationer or leisure traveler paying at least the bag fee, and possibly for a seat assignment, you don't have to. The beauty of Frontier is that it allows the light traveler with no bags, or even the money conscience traveler, to breeze through a Frontier flight with his wallet size intact, and feeling like he has won at this game we call modern-day air travel.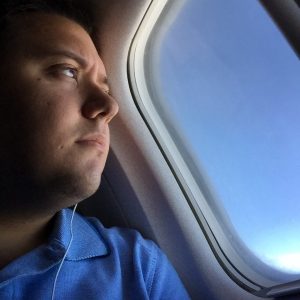 Tom has been flying for as long as he can remember. His first flight memory was on a Song Airlines 757 flying from LaGuardia to Orlando. Back then, he was afraid to fly because he thought you needed to jump off the plane in order to get off. Some years later, Tom is now a seasoned traveler, often flying to places just for the fun of it. Most of the time, he'll never leave the airport on his trips. If he's not at home or at work as a Line Service Technician at Long Island MacArthur Airport, he's off flying somewhere, but only for the day.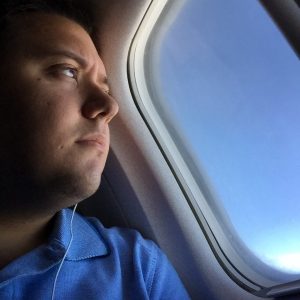 Latest posts by Thomas Pallini (see all)