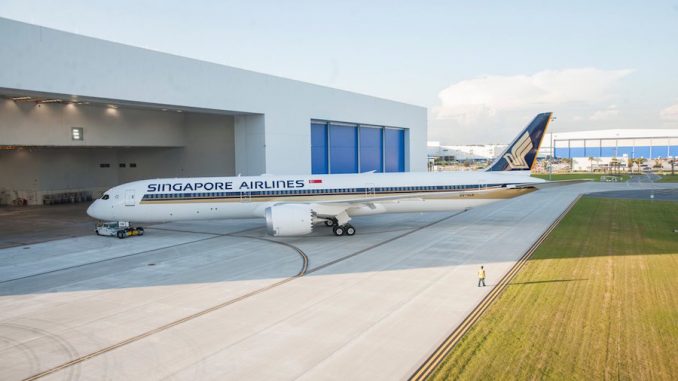 On Thursday, Boeing rolled the first passenger 787-10 out of the paint shop in North Charleston, S.C. painted in the livery of launch customer, Singapore Airlines. The first 787-10 is expected to be delivered to Singapore Airlines in early 2018, after being constructed at Boeing's North Charleston plant.
Just rolled out of paint! Here's your first look at the first #Boeing 787-10 #Dreamliner in the beautiful @SingaporeAir livery. pic.twitter.com/j6LxKP4klI

— Boeing Airplanes (@BoeingAirplanes) October 13, 2017
The Boeing 787-10 is the newest and largest of the Boeing 787 series, featuring a larger, extended cabin. It is 38 feet longer than the Boeing 787-8 and 18 feet longer than the Boeing 787-9. 
The aircraft can seat between 290 and 310 passengers, depending on an airlines' preferred configuration. Singapore Airlines is the launch customer for the aircraft, with an order for 30 of the new airplanes.
Despite early issues with its battery, the Boeing 787 has proven to be a successful aircraft for airlines. Its range, fuel efficiency, and passenger capacity have enabled carriers to open up thin long-haul routes to new destinations. British Airways uses the aircraft to open up service to mid-sized cities, such as Austin, TX and Nashville, Tenn.
Joining Singapore Airlines in purchasing the 787-10 is United Airlines, British Airways, and two leasing corporations. There are 102 aircraft on order for the 787-10, accounting for about 15% of the current Boeing 787s on order.
It is the first Boeing aircraft to be built exclusively at Boeing's North Charleston facility.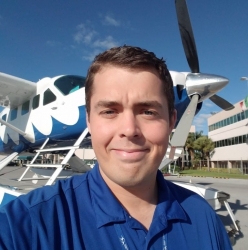 Daniel has always had aviation in his life; from moving to the United States when he was two, to family vacations across the U.S., and back to his native England. He currently resides in South Florida and attends Nova Southeastern University, studying Human Factors in Aviation. Daniel has his Commercial Certificate for both land and sea, and hopes to one day join the major airlines.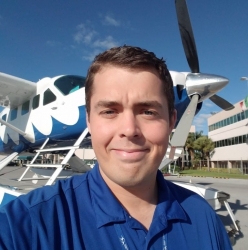 Latest posts by Daniel Morley (see all)