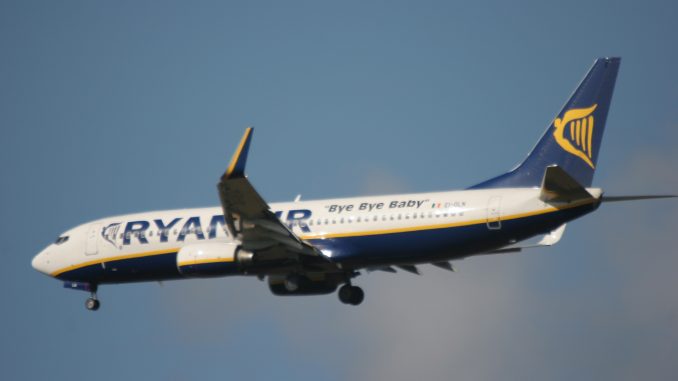 Thousands of travellers across the U.K. have had their travel plans altered, with further disruption predicted throughout today as Hurricane Ophelia makes land across the U.K. The news comes in addition to the disruption caused by Ryanair's cancellations over pilot holidays, and the recent loss of Monarch Airlines, as passengers throughout the United Kingdom are now finding their flights cancelled as airports brace themselves in anticipation of strong winds and rain.
Irish low-cost carrier Ryanair, who are arguably facing reputation troubles in light of recent cancellations involving pilot holidays, cancelled more than 80 flights affecting around 15,000 passengers. More than 100 flights alone have been cancelled to and from Dublin airport, with services to and from Dublin, Knock and Cork being particularly affected.
Passengers who booked with fellow Irish carrier Aer Lingus also saw cancellations, as the airline cancelled numerous services from Dublin to Edinburgh and Glasgow alongside services to and from London-Heathrow.
While flights are still operating out of London-Heathrow, the strong winds and adverse weather has meant a lower arrival rate than usual, resulting in British Airways, the airport's main carrier, to also cancel more than 50 flights out of the hub. The airline's flagship service from London City to New York was also cancelled, due to the aircraft being unable to land in Shannon for its usual refuel stop. It is not known exactly how many passengers have been affected by the cancellations.
Numerous other carriers have also made cancellations, with Scandinavian Airlines (SAS), easyJet and Flybe all seeing services disrupted throughout the U.K.
The Hurricane, named Ophelia, hit the United Kingdom yesterday and is expected to cause disruption for at least two days, with winds expected to be up to 80mph. Warnings have been issued by the Foreign Office and Met Office, advising people to follow the advice of local authorities, including any evacuation warnings given.
Airports throughout the U.K., particularly in Ireland, are advising passengers to check with their airline regarding their flight status as they anticipate severe disruption over the next two days.
As flights throughout the nation face cancellations, and with other modes of transport also suffering from the effects of Hurricane Ophelia, passengers will be left with the issue of rebooking, rescheduling or finding alternative means of transport.
In response to the unfortunate circumstances, Flybe is allowing anyone booked on a flight to or from Northern Ireland or Scotland the option to postpone their journey and rebook without a penalty. Other airlines, including British Airways, United Airlines and American Airlines are all offering similar opportunities for passengers to postpone flights to alternative dates.
Hannah Maundrell, Editor at money.co.uk issued advice for travellers when it comes to compensation & refunds stating that "If your flight is cancelled you're entitled to a refund within 7 days or an alternative flight."
Maundrell went on to say that not all flights have been affected, so it is vital for passengers to check with your airline before travelling to the airport.
For passengers stuck at airports, airlines will be tasked with providing means of accommodation and food until such a time when the passengers can be flown to their destination. Further disruption is expected to last until the end of Tuesday, with the worst of the storm predicted to have passed by then. However, travellers are to be advised that further delays could be expected in the days after as airlines and airports recover from the aftermath of the storm.
Josh is a long-term aviation enthusiast and aspiring commercial airline pilot. From a young age, he has immersed himself in all things aviation. From plane spotting at local airports and airfield to racking up frequent flier miles on trips abroad, Josh is a huge AvGeek at heart. He graduated from university in September 2017 with a first class Bachelor of Science degree in Air transport. He completed his pilot training, gaining his Frozen ATPL in November 2017 upon completion of his Multi-Engine Instrument rating and Multi-crew/Jet orientation course. He currently has around 230 hours of flying experience in various aircraft. He hopes to join an airline as a first officer by the end of 2017.

He frequently flies on one of his favorite airlines, British Airways, and is an avid Avios collector and British Airways Executive Club member.
In his spare time, while not studying, flying or immersing himself in aviation he enjoys spending his time volunteering in a variety of roles and running a blog to help other aspiring pilots pursue their dream.
Latest posts by Joshua Drabble (see all)