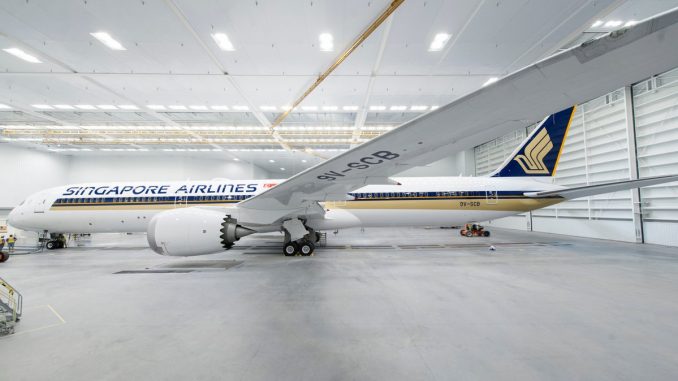 On Monday, Boeing finalized a previously announced deal with Singapore Airlines, valued at $13.8 billion. Boeing CEO Kevin McAllister and Singapore Airlines CEO Goh Choon Phong, who announced the deal back in February, finalized the deal at a White House signing event on Monday. In attendance were Singapore's Prime Minister, Lee Hsien Loong, and President Donald J. Trump.
The substantial deal, valued with list prices totaling 13.8 billion dollars, consists of 39 aircraft, including 20 Boeing 777-9s and 19 787-10 Dreamliner aircraft. However, most major carriers are expected to negotiate significant discounts on larger orders. Factoring in potential discounts, it is estimated that the actual order value is closer to $6.5 billion in value, according to the investment banking firm Jefferies.
In addition to the aircraft on firm order, the carrier also added the option to purchase six additional planes of each aircraft type, bringing the potential order up to as many as 51 aircraft. When speaking about the purchase, President Trump said that the purchase of nearly $14 billion of Boeing aircraft will create approximately 70,000 jobs in the U.S. This deal is a big win for U.S. manufacturing, a staple of Trump's presidency.
When discussing the deal, Singapore Airlines CEO Goh Choon said, "SIA has been a Boeing customer for many decades and we are pleased to have finalized this major order for widebody aircraft, which will enable us to continue operating a modern and fuel-efficient fleet."
Choon went on to say the new aircraft will be utilized to provide the airline with new growth opportunities, allowing for further expansion of their network and more travel options for their customers.
Boeing CEO Kevin McAllister also spoke highly of the deal saying that, "Boeing and Singapore Airlines have been strong partners since the airline's first operations 70 years ago and we are thrilled to finalize their purchase of 20 777Xs and 19 additional 787-10 Dreamliners."
McAllister went on to call the airline's order a testament to the market-leading capabilities of Boeing's widebody airplanes.
The new deal marks the airline's first order of the newest and largest 777 variant offered by Boeing, the Boeing 777X. The manufacturer started production on the new, modern jet yesterday, celebrating the milestone event with a special live stream on the company's website and Facebook page.
Singapore Airlines now has 49 787-10 aircraft on order, with the first of those aircraft expected to arrive next year.The airline will also be the launch customer for the Boeing 787-10 Dreamliner.
Josh is a long-term aviation enthusiast and aspiring commercial airline pilot. From a young age, he has immersed himself in all things aviation. From plane spotting at local airports and airfield to racking up frequent flier miles on trips abroad, Josh is a huge AvGeek at heart. He graduated from university in September 2017 with a first class Bachelor of Science degree in Air transport. He completed his pilot training, gaining his Frozen ATPL in November 2017 upon completion of his Multi-Engine Instrument rating and Multi-crew/Jet orientation course. He currently has around 230 hours of flying experience in various aircraft. He hopes to join an airline as a first officer by the end of 2017.

He frequently flies on one of his favorite airlines, British Airways, and is an avid Avios collector and British Airways Executive Club member.
In his spare time, while not studying, flying or immersing himself in aviation he enjoys spending his time volunteering in a variety of roles and running a blog to help other aspiring pilots pursue their dream.
Latest posts by Joshua Drabble (see all)