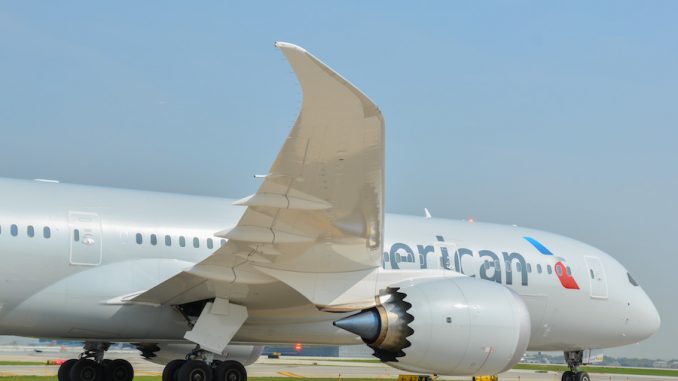 As of Nov. 5, American Airlines launched flights to Beijing from Los Angeles, becoming the first U.S.-based carrier to operate this route.
American 181 will depart daily from Los Angeles (LAX) at 10:55 A.M., and arrive at Beijing International Airport (PEK) at 4:20 P.M. the next day. The return flight, American 180, departs Beijing at 6:30 P.M., and arrives at LAX at 3:15P.M.
"American is proud to be the only US-based carrier to offer service between Los Angeles and Beijing," stated Jim Butler, senior Vice President international and cargo, American Airlines. "The new route enhances our expanding Asia-Pacific network by providing more options for business and leisure travelers as well as cargo customers looking to connect shipments on American's network to Latin America and other destinations in the US."
Flights will be operated using the Boeing 787-8 aircraft, which features access to international wifi, and touchscreen monitors loaded with 260 movies, 13 radio channels, 240 tv shows, 350 albums, and 20 games, according to the carrier.
"The launch of new nonstop service to Beijing solidifies LAX as American's west coast gateway to the Asia-Pacific region," said Suzanne Roda, senior Vice President, Los Angeles. "American has a long, proud history of serving Los Angeles and since 2015, we have added 24 new destinations from LAX including Sydney, Auckland, Hong Kong, Tokyo Haneda and now Beijing."
At Beijing International Airport, American recently relocated to Terminal 2 from Terminal 3, reducing connection times for passengers. At LAX, American remains the largest carrier with greater than 200 daily flights.
According to the airline, LAX will be its third route to Beijing from the U.S., as American has been serving Beijing from Chicago since 2010 and Dallas since 2015.
Ashley is currently a senior in high school and plans on pursuing a career in aviation or journalism. Her favorite airplanes include the Boeing 777, 737MAX, and Airbus A350. She enjoys taking flights on various airlines to different airports and planespotting at her local airports.
Latest posts by Ashley Magoon (see all)