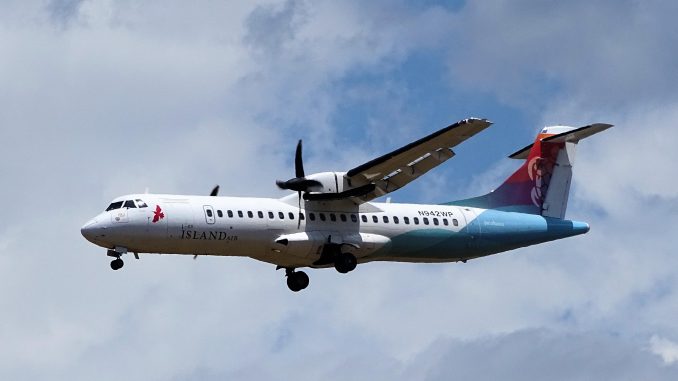 On Friday, Hawaii's second-largest carrier, Island Air, announced that it would cease all operations effective Saturday morning. The airline's cessation comes a month after filing for Chapter 11 bankruptcy protection. The news was unexpected as the airline recently added new Bombardier Q400 aircraft to their fleet in September.
The airline's final flight will be from Kahului Airport to Honolulu International Airport on the night of Nov10, landing at 10:49 p.m. local time. The airline will officially cease to exist at 12:01 a.m. local time on Nov. 11, less than two hours after its final flight.
Ticketed passengers on the airline's future flights have been told to contact their credit card company for refunds, while others have been told to file claims in bankruptcy court to get their money back. The airline gave no other options for passengers holding tickets.
Hawaiian Airlines announced they would offer ticketed passengers a seat on their flights on a standby basis. However, this offer will only last through next week, leaving future passengers without an alternative.
Island Air operated over 200 weekly flights between the Hawaiian islands with their fleet of Q400s. The intra-Hawaiian airline also had a codeshare partnership with United Airlines, connecting passengers to the mainland or to other Pacific islands that United serves via its Guam hub.
The shutdown of the airline also marked the loss of jobs for Island Air's employees. The airline employed over 400 employees at the time of shutdown.
Reaching a hand out to the stranded employees, Hawaii Governor David Ige said in a statement: "The state will be working with Island Air to help the employees apply for unemployment insurance and provide assistance with job searches and training opportunities."
The airline was started in 1980 under the name Princeville Airways. In 1995, the airline had changed the name to Island Air. Larry Ellison, Co-Founder, Chairman and Chief Technology Officer of Oracle, purchased the airline in 2013, however, he sold his controlling interest in early 2016 before the airline filed for bankruptcy.
As with every door closing, another one opens. With Hawaiian Airlines and Mokulele Airlines being the only two airlines left operating inter-island flights, there is a possibility for a new airline to fill the gap left by Island Air. Airlines such as Southwest Airlines, who just announced service to Hawaii, and Alaska Airlines could possibly fill the void.
Island Air is the next in a long list of airlines closing up shop this year. To them, we say "Mahalo."
Jace has been working at AirlineGeeks for nearly three years. Born in Seattle, Boeing and aviation quickly took over his life and he never stopped looking up. Jace enjoys plane spotting and taking trips just so he can fly. He is currently studying at Embry-Riddle Aeronautical University while earning his Bachelors of Science in Air Traffic Management.
Latest posts by Jace Moseley (see all)