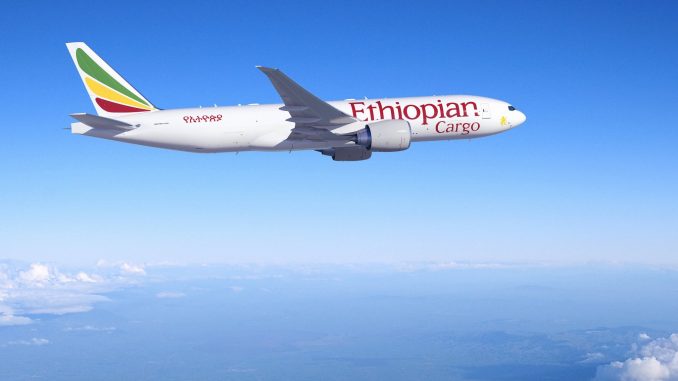 Ethiopian Airlines has announced a deal with Boeing for four Boeing 777 freighters, which at list price values the purchase at $1.3 billion. The deal was announced on Tuesday on the third day of the Dubai Airshow, which continues until Thursday.
The aircraft are expected to be delivered in 2018 and 2019, with discussions still ongoing for options on the 777x passenger variant of the aircraft. Two of the four aircraft ordered were a firm order on a previously announced commitment back in June.
Ethiopian Airlines Chief Executive, Tewolde Gebremariam, said the deal underlined the vitality of air traffic in North Africa, stating that "Ours is a fast growing region and we expect growth. There is enough demand for us and competitors."
He went on to say that "This airplane order will provide Ethiopian's Cargo & Logistics business with enhanced cargo capacity and better operating economics as we continue to build one of the largest cargo terminals in the world. Operating high-performance airplanes such as the 777 freighter is a reflection of our commitment to expand and support the growing imports and exports of our country and the African continent."
Ethiopian Airlines currently operates one of the youngest fleets in Africa, with a fleet of 94 aircraft including modern fuel-efficient Airbus A350s and Boeing 787s. The airline is planning on replacing its mid-size jet fleet, and is considering the purchase of between 10 and 20 of the next midsize aircraft that Boeing is looking to develop.
Regarding the announcement, Boeing Commercial Airplanes President & CEO Kevin McAllister, said, "We are honoured that Ethiopian Airlines, one of Africa's leading carriers, has again selected Boeing airplanes to grow its operations, adding to an order book that includes the 737 MAX and 787 Dreamliner."
McAllister went on to say that the 777 Freighter has no competitor in its class, offering low operating costs, long range and capacity to carry cargo.
Ethiopian Airlines currently operates a fleet of six Boeing 777 freighters and two Boeing 757 freighters, operating to 39 cargo destinations in Africa, the Middle East, Asia and Europe. The airline opened a state of the art cargo terminal back in June, boosting the carrier's annual capacity to one million tons.
Josh is a long-term aviation enthusiast and aspiring commercial airline pilot. From a young age, he has immersed himself in all things aviation. From plane spotting at local airports and airfield to racking up frequent flier miles on trips abroad, Josh is a huge AvGeek at heart. He graduated from university in September 2017 with a first class Bachelor of Science degree in Air transport. He completed his pilot training, gaining his Frozen ATPL in November 2017 upon completion of his Multi-Engine Instrument rating and Multi-crew/Jet orientation course. He currently has around 230 hours of flying experience in various aircraft. He hopes to join an airline as a first officer by the end of 2017.

He frequently flies on one of his favorite airlines, British Airways, and is an avid Avios collector and British Airways Executive Club member.
In his spare time, while not studying, flying or immersing himself in aviation he enjoys spending his time volunteering in a variety of roles and running a blog to help other aspiring pilots pursue their dream.
Latest posts by Joshua Drabble (see all)