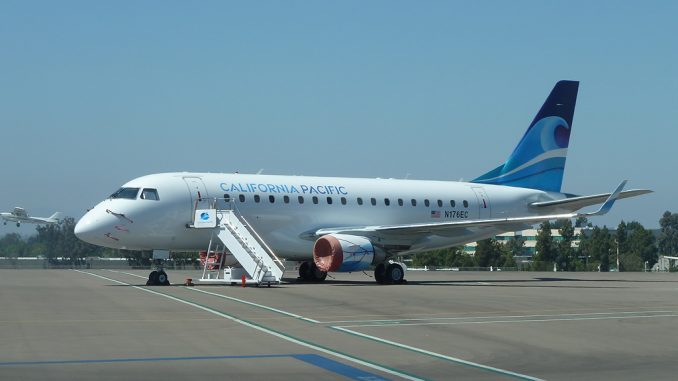 Carlsbad-based California Pacific Airlines was recently certified by the FAA as a scheduled air carrier. According to the San Diego Reader, the announcement came on Nov. 16 at a meeting for shareholders and supporters of the airline. This is one of the first pieces of good news since the airline was proposed back in 2013.
The airlines hopes to fly to six destinations, with up to 15 flights daily from its planned main hub at McClellan-Palomar Airport in Carlsbad, California. Planned destinations include Las Vegas, Phoenix, Sacramento, Oakland, San Jose, and Cabo San Lucas, Mexico.
The airline, sometimes referred to as CPAir, hopes to be flying by April 2018.
Along with the announcement of receiving an FAA certification, the airline also announced that it had purchased SkyValue Airways, a small, Denver and Kennesaw, Georgia based carrier and charter airline. SkyValue Airways serves small-Midwestern towns out of Denver and runs charters for NCAA, Major League Soccer, and NASCAR teams.
CPAir currently has five Embraer ERJ-145 jets and has options to purchase two Embraer ERJ-170s. The 145s will feature 44 seats instead of the 50 seats typically seen on the type. This will allow for greater passenger comfort.
Background
California Pacific Airlines was launched in 2009 by businessman Ted Vallas. Original plans to start operation were set for late 2011, but pushed back until fall 2012 due to certification delays from the FAA. Due to even more delays from the FAA, review dates for the airlines Part 121 certificate was pushed back until 2014.
Following the further delays, the airline returned its single Embraer ERJ-170 to the manufacture and reported that employees had been furloughed.
Until recently, not much news had come from the airline, but this recent announcement gives the impression that the airline is close to truly taking off.
Outlook
Although the airline has struggled to get off the ground, only time will tell how they will end up doing on the operations side of things.
According to Vallas, he wants the airline to run like the former Pacific Southwest Airlines (PSA) and claims that they will not be marketing as a low-cost carrier. In a quote Vallas said, "We're not a feeder airline. We'll fly people to the destinations and then fly them back home."
The airline already looks to have some competition from Elite Airways on the route to Las Vegas from Carlsbad. Cal Jet by Elite started flights in late Sep. 2017, on a CRJ-700 aircraft.
Jace has been working at AirlineGeeks for nearly three years. Born in Seattle, Boeing and aviation quickly took over his life and he never stopped looking up. Jace enjoys plane spotting and taking trips just so he can fly. He is currently studying at Embry-Riddle Aeronautical University while earning his Bachelors of Science in Air Traffic Management.
Latest posts by Jace Moseley (see all)