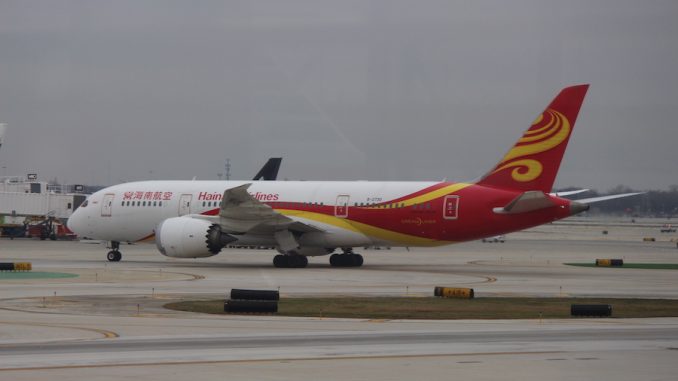 Hainan Airlines recently completed its first transcontinental flight with an aircraft fueled in part by biofuels derived from waste cooking oil. This marks a step forward in China's plan of meeting goals for a green economy and low carbon emissions. Though the aviation industry contributes around two percent of global human-induced carbon dioxide emissions the work airlines are putting into biofuels will still go a long way.
The Hainan flight from Beijing to Chicago was fueled by a mix of 15 percent biofuel and 85 percent conventional jet fuel marking a significant milestone for the airline after it first used a biofuel blend on a flight between Shanghai and Beijing.
Landed in Chicago! A @HainanAirlines 787 #Dreamliner completes 12.5 hr flight powered by biofuel ✈️???????? pic.twitter.com/wjIrZ8EU4O

— Boeing Airplanes (@BoeingAirplanes) November 22, 2017
The biofuel was produced by China Petrochemical Corp using waste cooking oils from restaurants such as vegetable oils and animal fats. These biofuels can help reduce emissions by 50 percent compared to regular jet fuel from petroleum.
China isn't the only country making a push to use biofuels. Several major airlines and governments around the world have agreed to push for more biofuels in aviation resulting in a global effort to reduce greenhouse emissions related to the aviation industry.
Biofuels will not be replacing conventional jet fuel anytime soon but continued interest and investment will only help to further the development of more viable fuels.
United Airlines
The airline uses a biofuel blend of approximately 30 percent biofuel and 70 percent traditional fuel. These biofuels are sourced from agricultural wastes and household trash. These fuels will result in a 60 percent reduction in carbon dioxide emissions on a lifecycle basis compared to traditional jet fuel.
United is leading the way for the use of biofuels in the U.S. aviation industry. In 2016 the airline became the first U.S. airline to use commercial-scale volumes of renewable biofuel for regularly scheduled flights.
Qantas Airways
In 2012, Qantas flew an Airbus A330 that was powered with a 50:50 blend of biofuel, derived from cooking oil, and conventional jet fuel.
The airline has announced that next year its recently introduced Boeing 787-9 Dreamliner will make a trip between Australia and the United States fueled by a biofuel derived from mustard seeds. The fuel will be a blend of 30 percent biofuel and 70 percent conventional fuel with an estimated 20 percent reduction in emissions.
Lufthansa
Lufthansa has tested biofuels since 2011 and has many commercial flights testing different varieties of biofuels and jet fuel.
Last year the airline entered an agreement with Gevo, a company that produces biofuels from grain. The terms of the agreement allow for the airline to purchase 8 million gallons per year for up to 5 years.
KLM Royal Dutch Airlines:
The airline has flights from New York which operate using a biofuel and conventional fuel blend. In the past year, the airline has also signed agreements for a supply of biofuels in Los Angeles, from the same supplier of United's fuel.
In more recent news the airline is researching possibilities of having the return flight from Amsterdam to San Jose, Costa Rica use a biofuel blend given the country's determination to reduce carbon emissions.
While breakthroughs are being made in the use of biofuels in the aviation sector, there is no real supply chain. Biofuels on average are still more expensive than conventional jet fuel, especially now due to the relative cheapness of crude oil. Given the efforts of the airlines and countries mentioned above, the biofuel industry should develop further in the coming years.

Hemal took his first flight at four years old and has been an avgeek since then. When he isn't working as an analyst he's frequently found outside watching planes fly overhead or flying in them. His favorite plane is the 747-8i which Lufthansa thankfully flies to EWR allowing for some great spotting. He firmly believes that the best way to fly between JFK and BOS is via DFW and is always willing to go for that extra elite qualifying mile.

Latest posts by Hemal Gosai (see all)