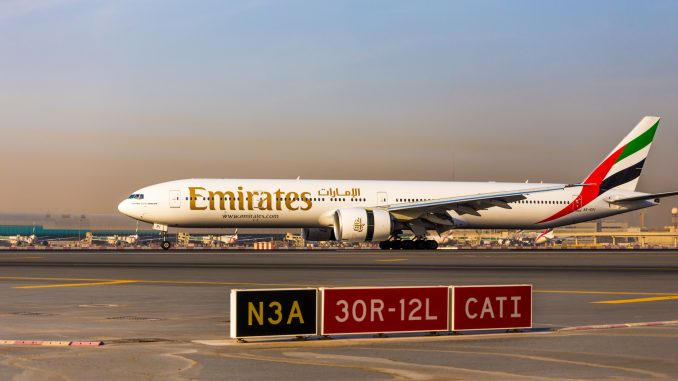 Tunisia has suspended flights operated by Emirates due to a public uproar over security measures aimed at women from the North African country.
The suspension, which will take effect on Dec. 25, 2017, comes after several Tunisian women were denied boarding for their Dubai-bound flights on Emirates.
The Tunisia transportation ministry said that it "has decided to suspend flights of Emirates Airlines to and from Tunisia until the company can find a suitable solution to operate its flights in accordance with international laws and treaties."
Tunisia and the United Arab Emirates (UAE) have received numerous reports from Tunisian women claiming to have been delayed, forced to undergo additional screening of their visas, and denied boarding.
"We contacted our Tunisian brothers about security information that necessitated taking specific procedures," said the UAE foreign minister, Anwar Gargash on Twitter. "We should avoid misleading attempts… We highly value Tunisian women and respect them."
The Guardian reported that while Tunisia asked the UAE ambassador for a clarification of the procedures Emirates has in place, Tunisian rights groups are still saying the acts are "discriminatory and racist."
One woman told her story to local Tunisian radio station Mosaique FM: "When we arrived here, we found the situation really chaotic. [Emirates Airlines employees] told me that a Tunisian woman under the age of 30, with a Tunisian passport, can't get on the Emirates flight."
"I told them it was just a transit flight – they told me, 'No, don't step foot on the plane."
Males — both men and children­ — were allowed to board Emirates flights, but women under the age of 30 were denied access. A date has not yet been set as to when Emirates will be allowed to resume operations to and from Tunisia.
Matthew Garcia became interested in aviation at the age of 12 when he installed Microsoft Flight Simulator X on his computer. He was instantly "bitten by the bug" and has been in love with aviation ever since. Matthew took his first introductory flight in 2013 and began normal flight training in February of 2015. Over the years, Matthew's love and knowledge for aviation has grown tremendously, mainly due to FSX. Garcia flies highly advanced aircraft in a professional manner on a highly complex virtual air traffic network simulating real world flying. In 2016 Matthew achieved his private pilot certificate from the FAA. Now he studies journalism at the University of Nebraska at Omaha.
Latest posts by Matthew Garcia (see all)