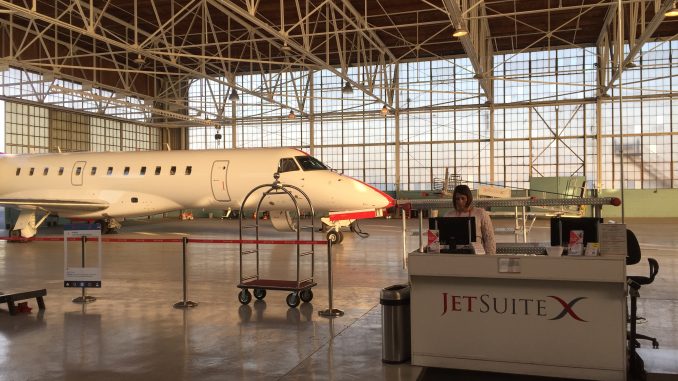 People in Los Angeles really love escaping to Las Vegas for the weekend. No matter what part of the Los Angeles area you live in, you can always count on numerous scheduled airline flights throughout the day from several Los Angeles-area airports that can get you there in no more than an hour.
But all the loops and holes like waiting aimlessly in traffic, riding the airport parking lot shuttle, and navigating through TSA and airport lines makes getting from your home to the boarding gate a big hassle and time waster. Traveling to Vegas by air often becomes a 4-hour process — the same amount of time it takes to get there driving.
JetSuiteX, a Southern California-based private jet company, seeks to change all that with affordable semi-private jet flights to several popular destinations throughout California and Nevada, including Burbank, Oakland, San Jose, Concord, and Las Vegas. Founded by Alex Wilcox, a former JetBlue Airways executive, JetSuiteX offers the best of hassle-free travel at affordable fares.
The semi-private jet service operates like a traditional airline with scheduled departures minus the hassles. It heavily markets the affordable luxury jet experience, including its own private terminals, no security line, valet parking and first class amenities as reasons for choosing it over other regular airlines. Travelers on JetSuiteX can also earn points on JetBlue's frequent-flyer program.
I traveled as a guest of JetSuiteX to try out their Burbank to Las Vegas service, which usually operates 2-3 times per day in each direction. Flights to Vegas from Burbank Airport are usually as low as $129 on JetSuiteX if you book early.
Burbank Terminal
It was a Tuesday at 9:00 a.m. flight, but I took an Uber from my home in Downtown LA at around 6:45 a.m. to account for unpredictable LA traffic and to make sure I had enough time for planespotting. It was kind of unnecessary to leave that early though because I literally made it from the car to the boarding lounge in less than 5 minutes with the easy and fast check-in process.
JetSuiteX has its own terminal facility at Burbank, Hangar 2. The hangar is separate from the main terminal at Burbank Airport, giving it a prime location away from the masses arriving at the airport. JetSuiteX even offers valet parking and has its own car rental counter right inside the hangar. The check-in process was as simple as showing the JetSuiteX concierge my ID, and because the service operates with less than 31 seats, there was no TSA security check needed. My only concern was the baggage allowance – two checked bags are included on JetSuiteX, but both cannot weigh more than 50 pounds total. I would definitely need more allowance than this on a longer trip, but it looks like they are flexible on this rule though.
The boarding lounge was right behind me, and the airplane was within viewing range. They even put out Foosball tables and photo props – probably to poke fun at travelers like me who arrive too early (like when they fly commercial) and now have so much time to kill.
JetSuiteX Lounge: Burbank
JetSuiteX's Hangar 2 offers all the amenities you would expect as a first class traveler – a lounge, free coffee and snacks, and even a concierge that explains everything to you if you're flying them for the first time. The lounge was a traditional set-up with comfy furniture, self-serve refreshments, and free W-Fi. I really loved the aviation-themed furniture and artwork inside, and there are even windows looking out at the hangar and the activity outside.
There was a decent selection of appetizing snacks and hot beverages, and the Wi-Fi speed was great. The only issue was that the lounge was kind of small, even for a semi-private jet service. I can only see this as a problem in the future if JetSuiteX were to expand its network. The lounge was only sparsely populated around the time I checked in, but it became a bit too crowded as boarding time neared.
Boarding
As advertised, there was no gate agent calling out boarding positions. It was literally so simple. Passengers simply walked up to the ramp and boarded the aircraft like it was no big deal. No one was really rushing to board, and the boarding process took less than ten minutes because no one was fussing with their carry-ons. The doors closed a few minutes later than the scheduled time of departure and there was also a wait to get cleared for takeoff from the airport, but the flight still landed in Las Vegas on time. Although there aren't really any cut-off times for check-in or boarding, according to a JetSuiteX representative, passengers should still arrive 20 minutes before departure time.
The Cabin
JetSuiteX exclusively operates a fleet of Embraer E135s that were formerly used on regional routes by the legacy carriers. They have been totally gutted and upgraded into luxury jets. Each airplane is fitted with 30 leather seats set up in a 1-2 seating configuration, and there are 36 inches of pitch in every row – similar to what you'll find on domestic first class seats on narrowbody jets. The leather seats were quite comfortable, and the recline was adequate for a short-haul flight.
Almost every detail and feature on the airplane defines the first-class experience. There are no overhead bins, so the plane felt much more spacious and roomy. Carry-ons were either stored in the coat closet or under the seat. The E135 features a marble sink in the lavatory, leather-padded walls, plush carpets and excellent soundproofing. Every seat is equipped with power outlets either by the wall or under the armrest. Unfortunately for those who like to look out the window, most of the seats are not aligned well with the windows. You either have to lead forward or recline back to get a good view. There is free access to Wi-Fi onboard the aircraft, but the connection was a bit spotty.
The Service
The flight was short but luxurious. The interior was nearly spotless and still had the new airplane smell. The sole flight attendant welcomed everyone onboard and drink orders were taken immediately when the flight reached cruising altitude. There was a live safety demonstration as well. The airline offers a pretty upscale selection of snacks, drinks, as well as an expansive selection of cocktails. Those usually come with a hefty price tag when you fly commercial. Despite the relatively full flight, the sole flight attendant onboard was able to get out everyone's drink order out real fast and with a smile. The two pilots in the cockpit were also very enthusiastic as well welcoming first-timers onboard and giving timely updates about the flight over the PA.
Arriving in Las Vegas
The Las Vegas arrival was very simple as well. We arrived at the private terminal for Atlantic Aviation at McCarran International Airport on-time and waited a few minutes for the okay to de-plane. The coolest part upon de-planing was that everyone's baggage was waiting right by the stairway and there was a JetSuiteX agent to meet us upon arrival. There was no need to go into the private terminal, and the JetSuiteX agent guided us to the street exit and bid everyone farewell. It was then a super-quick Uber ride to the Vegas Strip (avoiding the taxi line at McCarran's main terminal), or a ten-minute walk to the nearest resort if you decided to go that route.
When departing Las Vegas, JetSuiteX operates from a facility near the airport, separate from Atlantic Aviation. Passengers are later bussed to the Atlantic Aviation terminal together before departure time. The JetSuiteX lounge in Las Vegas features the same amenities found at JetSuiteX's Hangar 2 in Burbank, but the space is much larger and features a number of private rooms.
Final Thoughts
As a 9 to 5 kind of guy who really cares about time and convenience, I definitely value the service that JetSuiteX offers. JetSuiteX has made luxury jet travel more accessible, and the service really saves time and eliminates the stress and inconvenience associated with airports.
Legacy airlines have tried their best to offer even more convenience to commuting travelers with more frequent service, closer boarding gates, reduced minimum check-in times, and even free snacks. JetSuiteX, however, has an advantage in these areas with its fleet of E135s and private jet terminals separate from the passenger terminals of big city airports. Although the LA to Vegas flight is a very short one (the time you spend in the air really is only 40 minutes or less), one really must consider the hassle and stress it takes to get to an airport like LAX. If you are an intercity commuter, the time saved really does add up and makes this luxury jet service worth it.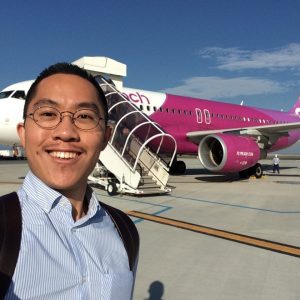 Most people hate long flights or overnight layovers, but Albert loves them. The airport and flying parts of traveling are the biggest highlights of any trip for him – as this avgeek always gets a thrill from sampling different airline cabin products and checking out regional developments happening at local U.S. airports. He's flown on almost every major carrier in the U.S. and Asia Pacific, and he hopes to try out the new A350s soon.

Albert recently completed his undergraduate studies in Business Accounting at USC in Los Angeles and he is currently recruiting for a corporate analyst position at one of the U.S. legacy carriers. During his college years, he interned at LAX for Los Angeles World Airports working behind-the-scenes (and on the ramp) in public relations and accounting. Outside of writing for AirlineGeeks, he enjoys trekking the Hollywood hills, visiting new hotspots throughout SoCal, and doing the occasional weekender on Spirit Airlines.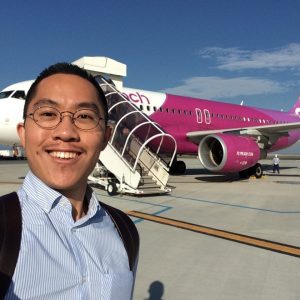 Latest posts by Albert Kuan (see all)