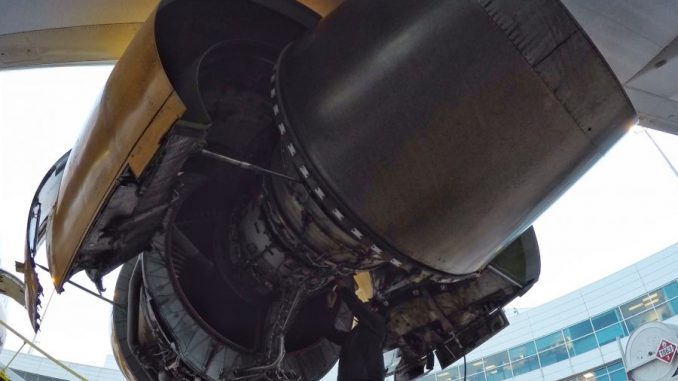 When most people think about careers in the aviation industry, it's common to remember pilots and cabin crew. It's not often that your average traveler takes a moment to think about all the other personnel that are keeping aircraft in the sky.
Aircraft mechanics and engineers are responsible for keeping the airplanes we use safe, and are always busy on the flight line changing tires, checking for leaks, and ensuring our safety. They also spend plenty of time in the hangars completing necessary activities such as swapping engines on planes, fixing major components such as flaps and ailerons, and even fixing IFE systems so we stay entertained during our flights.
Hector Salinas is one of those aviation mechanics who keep us safe in the skies. You may know him as Ensou1 on Instagram, but he is also an aviation technician in Hong Kong who works on the Boeing 777-300ER. On Instagram, you will find him posting technical photos of the 777 explaining to his thousands of followers what each part does and why.
AirlineGeeks had the opportunity to sit down with Hector and discuss his role as an aircraft technician.
1. Could you give us some background on yourself?
My name is Hector Salinas, I am 31 years old and have been in aircraft maintenance for 11 years. I was born in El Paso, TX and spent most of my childhood in Mexico. Soon after high school graduation, I moved to Tulsa, OK where I studied aviation maintenance and obtained my FAA A&P certification.
I then moved to Denver, Colorado where I worked for an airline for eight years. I spent most of my aviation career in Denver and worked with really great people. In 2016 I left Denver and moved to Hong Kong in order to be with my wife. Now I maintain the Boeing 777-300ER for one of the top five airlines in the world (according to Skytrax, 2017).
2. What exactly do you do? You're pretty mysterious on Instagram, so what do you want your thousands of followers to know about you?
My job is to keep the aircraft that I work on in airworthy condition. This can be everything from a simple light bulb change in the flight deck to something more critical such as an engine change. You name it, I've probably done it on at least one aircraft. I also taxi the aircraft and do engine runs.
A few other responsibilities I have are airworthiness release and required items inspection (RII). Items considered critical to flight safety are RII, and I'm responsible for overseeing the installation and check of the maintenance being performed. This includes emergency slides, windows, flight control actuators, rigging, and more.
When a pilot reports a problem, I have to figure out what it is, order parts and materials, change the component, perform tests if necessary, and then sign the logbook so that the aircraft can be put back in service. Sometimes it's an easy fix,  whereas other times it can require a delay or cancellation.
I wouldn't consider myself mysterious on Instagram though. My followers know what I do as it is stated on my bio and my posts show what I do. The people that have followed me from the beginning know what I like, dislike, and even how I look. I do want to let everyone know that the support is always appreciated.
3. What sparked your interest in aviation?
Growing up I would always hear my mother talk about how she wanted to be a pilot. The airport life was always fascinating to her, and I think I picked up on that excitement. Perhaps unconsciously she was putting the idea in my head for me to become a pilot when I grew up, but I just didn't see that much interest in flying an airplane.
Like my mother, I also enjoy the airport life but I was more interested in how airplanes worked and what was done to keep them flying. I feel I do much better on the ground than I would in the air.
4. What is unique to you about engineering and maintenance versus flight operations?
I really don't know much about flight ops, but it seems a little stressing. I don't like being in an office and being responsible for scheduling, flight planning and dispatching. Too many things to worry about. In maintenance, it's me and the aircraft. There's a great feeling of satisfaction when you find a flight critical problem on an aircraft and then fix it, or when the company sends you on a road trip to fix a broken airplane, and on pushback the passengers clap because you saved the day.
5. Could you elaborate on your first job in aviation and how you were able to land where you are now?
My first job in aviation was as a Line Service Technician at a fixed-based operator (FBO), fueling and towing aircraft. Apart from fueling business jets, my location also had a military contract. I fueled training and fighter jets and helicopters, transport aircraft such as the C17, and even presidential helicopters.
About seven months later, I was able to land my first aviation maintenance job maintaining business jets for only $10 per hour. It was a low starting pay,  but it was my opportunity to get my foot in the industry as it appears everyone wants experienced mechanics but no one is willing to give any.
There, I worked on the Learjet 35A, Falcon 20, Hawker 400A, and the SA227 Metro III. In that one year of employment, I was doing almost everything. That included changing engines, flight controls, and landing gears, performing engine runs, and modifications to the aircraft. I eventually got laid off as the company was not doing well. Thanks to that first job, airlines started to consider me, and I soon started working on the Bombardier Q400, Embraer 170/190, 757, 787, 747-400/-8, 777, and A320 aircraft.
6. What made you want to start posting technical photos on Instagram?
My Instagram at the beginning was completely different from what it is today. It started with photos of my visits to Japan and random photos of aircraft. In 2012 my page changed to one thing only, and that was the United 787.
Little by little, I started to post technical information about the 787. It was a brand new aircraft and had new systems and I felt the public was interested in it, but not enough information was out there apart from the battery issue. Now the posts have shifted to the 777 as it is what I work with now and is also one of the most popular aircraft out there.
When I do the technical posts I try to have the general flying public in mind on something they may have encountered before but never knew what it was or does. I try not to explain in a way that it is too technical as too much detail can get boring and confusing. I want you to leave with something new when you visit my page, whatever your position in aviation may be.
7. What is one piece of advice you have for people out there interested in doing what you do?
Hmm, one thing…perhaps to be very patient. This industry is constantly changing, whether it is good or bad. You are always learning something new as new airplanes come out. Chances are you will work night shifts for quite a while and work in different types of weather. It is going to take time to get where you want to be and land a job with a company you want to work with.
8. What is your favorite aircraft to work on and why?
I would say the 777. It's been in service for a very long time, and as such has had its bugs worked out and proven to be very reliable. It is designed in a way that is very maintenance friendly. The downside is that the bigger the aircraft, the heavier certain components get and more strength is required.
9. If there was one thing you could change about the aviation industry what would it be?
There are many things I would change, but to choose only one it would be the salary. The aviation industry to me is low paying and very demanding. The hardships and high responsibilities this industry comes with don't really go hand in hand with the salary. I guess you have to have a passion for aviation in order to stick with it. In the U.S., the salary for an aircraft technician I think is decent but when I moved to Hong Kong (Asia in general), the salary is at the minimum wage with very long hours.
10. You know I was going to ask this…Airbus or Boeing?
When it comes to maintenance, between these two I will always pick Boeing over Airbus. To me, Boeing makes a good quality product and seems to put the technician in mind when designing the aircraft. This includes tests for components, procedures, access to perform maintenance, and easy to understand systems.
The very few Airbus products that I've worked on always made me say in a confused way, "But why? Why is it designed like this?" This is also a personal preference, but Boeing makes very good looking aircraft. As a passenger, I really don't care if it's a Boeing or Airbus as long as I get where I need to be and safely. At the end of the day, if it's not a Boeing, I'm still going.
AirlineGeeks.com began in February, 2013 as a one-man (er… teenager, rather) show. Since then, we've grown to have 20 active team members, and yes, we're still growing. Some of us are looking to work in the aviation industry as professionals when we grow older. Some of us are still trying to decide what we want to do. That's okay though, because we're all here for the same reason: we love the airlines. We're the youngest team of airline industry journalists out there.
Latest posts by AirlineGeeks.com Staff (see all)