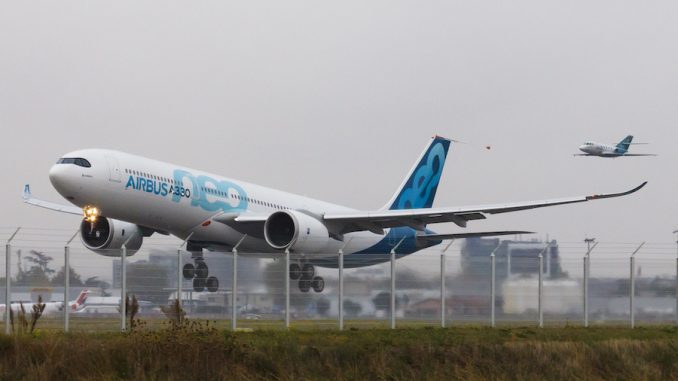 Aircraft manufacturing giant Airbus' future is not as bright as their recent success may suggest. The upcoming years are clouded with uncertainty given the changes in leadership and numerous alleged corruption scandals. While things may seem good for the European aircraft manufacturer, since it is expected that it will likely meet its delivery target of 700 aircraft, there are many underlying issues brewing that can result in a rocky few years.
First, John Leahy, head of sales at Airbus, will be departing at the end of this month. The president of civil aerospace at Rolls-Royce, Eric Schulz, has been tapped as his replacement. Schulz has some big shoes to fill given that Leahy is nicknamed "Mr. Airbus" after spending 33 years with the company.
Leahy has been involved in the sale of 16,000 out of the 17,370 orders Airbus has received since he started with the company. The supreme deal-maker has been instrumental in the launch and subsequent sales of the Airbus A380 and the sales of many Airbus aircraft. He still remains one of the biggest advocates for the A380 while its orders have stagnated and older aircraft are being sent back to lessors.
There is no doubt that Leahy has played an instrumental role in turning Airbus into the industry giant it is today.
Replacing such an important figure in the company is no easy task and Schulz will have a tremendous task ahead of him to match the accomplishments of his predecessor. How successful he will be is a key metric to watch in 2018 as the aircraft maker continues to compete head-to-head with Boeing.
Second, Planemaking chief, Chief Operating Officer and President of Airbus Fabrice Bregier recently left the company and will be followed by Chief Executive Tom Enders in 2019 when his contract expires. Earlier in the year Enders expressed interest in staying past 2019 but has recently come out saying that it was time for "fresh minds for the 2020s".
With the departure of Bregier, who many thought wanted the chief executive role, Airbus will now have to begin the search for new leadership while wrapped in several corruption and bribery scandals.
This top leadership shake-up seems to be Airbus' effort to show regulators that the company is serious about cleaning house since the company is facing scrutiny from several regulatory bodies in the United Kingdom, France, and the United States.
These corruption and bribery scandals stem from many allegations of unethical business practices ranging from the sale of satellites to Kazakhstan to the use of sales agents to sell US defense technology. These issues bear the weight of potentially over one billion Euro in fines. Rolls-Royce, entangled in a similar scandal, paid a 671 million pound to settle bribery and corruption claims in early 2017.
With all of the shake-ups and scandals occurring at Airbus, along with the unknown future of the Airbus A380, the company is going to have a potentially rocky next few years as it seeks out a new CEO and navigates the scandals it has entangled itself in.

Hemal took his first flight at four years old and has been an avgeek since then. When he isn't working as an analyst he's frequently found outside watching planes fly overhead or flying in them. His favorite plane is the 747-8i which Lufthansa thankfully flies to EWR allowing for some great spotting. He firmly believes that the best way to fly between JFK and BOS is via DFW and is always willing to go for that extra elite qualifying mile.

Latest posts by Hemal Gosai (see all)