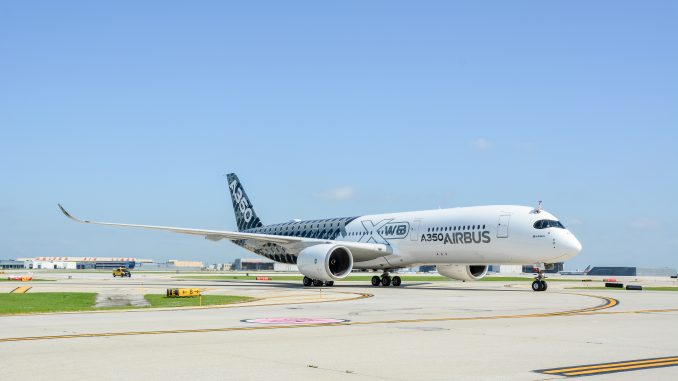 Turkish Airlines has signed a provisional agreement with Airbus for 25 A350-900 aircraft. The Turkish flag carrier signed the agreement on Friday during a visit by Turkish president Tayyip Erdogan to Paris.
The provisional agreement, the terms of which are currently under negotiation, was signed by Erdogan at an event in Paris with French President Emmanuel Macron. Speaking of the announcement, llker Ayci, Chairman of Turkish Airlines board said in a statement the addition of these aircraft will allow the airline to meet its 2023 growth targets.
Ayci said: "We declare our mutual goodwill in concluding negotiations in order to bring Airbus' newest wide-bodied models into our fleet. The purpose of our negotiations towards the addition of these aircraft to our fleet is to meet our long-haul needs for Istanbul's new airport as well as to further strengthen our firm within our 2023 targets."
He continued to state: "With this agreement today, we have signed our good will to carry on and finalize the acquisition with Airbus. Our agreement is a significant step forward in enhancing our passengers flight experience. This order is set to play a key role in our growing business in the years to come."
The airline recently highlighted its 2018 targets, hoping to welcome 74 million passengers in 2018, consisting of 33 million on its domestic services and 41 million on its international routes. The airline carried 51.6 million passengers in the first nine months of 2017, posting a $263 million net profit.
Turkish Airlines is also anticipating an increase in jet fuel consumption of 9 percent compared to 2017, with the price per tonne of fuel expected to be $633 in 2018. With the anticipated increase, the airline will be eagerly anticipating the arrival of the A350 aircraft, which offers modern fuel efficient Rolls Royce engines and an aerodynamic design with unrivaled levels of operational efficiency within the industry. The aircraft offers a 25 percent reduction in fuel burn and emissions.
The latest agreement comes just months after the carrier signed a provisional agreement with U.S. rival Boeing. Back in September, the carrier signed an agreement for an order of 40 Boeing 787-9 aircraft, due for delivery between 2019 and 2023.
The agreements come as the airline continues to replace its aging widebody fleet while adding further capacity ahead of its move to the new Istanbul airport. The new airport will open with three runways and one terminal, with an expected capacity of 90 million passengers.
The airline is intending on utilising the larger capacity of the airport, and its new modern fleet to further expand its international routes with IIker Ayci stating "With Turkish Airlines serving more destinations than any other airline around the world, we will be delighted to rely on our new A350 XWB to further develop our major international routes from Turkey." The airline intends to start operations from the new airport after it opens phase 1 in late October.
Josh is a long-term aviation enthusiast and aspiring commercial airline pilot. From a young age, he has immersed himself in all things aviation. From plane spotting at local airports and airfield to racking up frequent flier miles on trips abroad, Josh is a huge AvGeek at heart. He graduated from university in September 2017 with a first class Bachelor of Science degree in Air transport. He completed his pilot training, gaining his Frozen ATPL in November 2017 upon completion of his Multi-Engine Instrument rating and Multi-crew/Jet orientation course. He currently has around 230 hours of flying experience in various aircraft. He hopes to join an airline as a first officer by the end of 2017.

He frequently flies on one of his favorite airlines, British Airways, and is an avid Avios collector and British Airways Executive Club member.
In his spare time, while not studying, flying or immersing himself in aviation he enjoys spending his time volunteering in a variety of roles and running a blog to help other aspiring pilots pursue their dream.
Latest posts by Joshua Drabble (see all)