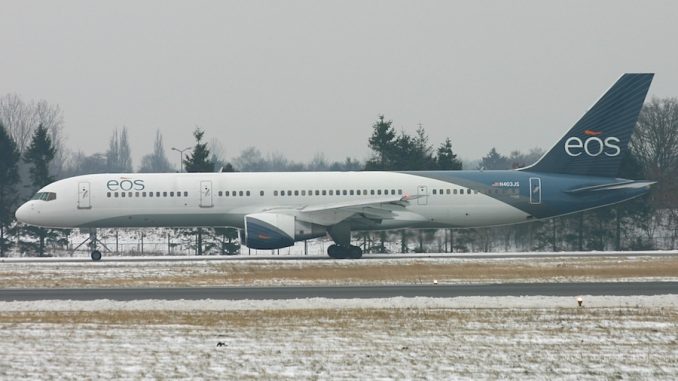 With many airlines restructuring in the early 2000s, major U.S. carriers were brought into difficult times. New airlines saw this as a way to cash in on the possibility of winning over business passengers who wanted something more from the legacy carriers. One of these marketable ideas was the long-haul, all-business class model, which had seen limited success in the past.
Dave Spurlock, who was a former director at British Airways, decided to take the risk and started Atlantic Express in 2004 as an all-business class airline operating between Europe and North America. The carrier started with service in 2005 with a 48-seat Boeing 757-200 aircraft providing service between London's Stansted Airport and New York's JFK Airport.
However, before the airline even left the ground, a name change occurred with the airline opting for the name Eos Airlines instead of Atlantic Express. The airline's primary livery would feature a modern grey and golden yellow fuselage with the Eos name appearing on both the forward fuselage and tail.
Eos found early success and immediately added more Boeing 757-200s to their fleet. The increased aircraft would allow for increasing the number of flights between London and New York, making them one of the most commonly flown airlines between the two cities.
However, the aviation slowdown following Sep. 11, 2001 and the decrease in travel as a result of the economic slowdown of the mid-2000s took a huge toll on Eos Airlines. The airline decided to do a rebranding in 2007 with the launch of their new slogan "Uncrowded. Uncompromising. UNAIRLINE." as well as dropping the "Airlines" from the company title.
However, while Eos was starting to rebuild, they were swamped with competition. British Airways had bought all-business carrier L'Avion to start their own boutique airline, OpenSkies, as well as other airlines like MAXjet Airways and Silverjet still cluttering the North Atlantic skies.
The airline announced in early 2008 that they would add new routes, including service from London-Stansted to Newark and Dubai. Long-term goals for Eos would see the airline start routes to London from other cities like Washington D.C. and Boston. Eos was also analyzing Miami as a hub for potentially adding all-business class flights to Central and South America.
Unfortunately, before those goals could come to fruition, Eos collapsed. The airline announced on April 27, 2008, that the airline could not afford to operate any further and would ground the fleet of six Boeing 757-200s soon. The last Eos flight was the next day on April 28, 2008, operating between London and New York, officially ending Eos at 6:30 p.m.
While the collapse of a carrier is normally big news, in 2008, Eos's bankruptcy and attempts to restart were overshadowed by larger U.S. carriers such as Aloha Airlines, ATA Airlines, and Skybus Airlines all filing for bankruptcy protection a month before Eos. Much like most of the other carriers that fell into bankruptcy in 2008, Eos never flew again.
Since its collapse, however, other airlines have found success operating an all-business class model. Open Skies had been successful until IAG announced that its new transatlantic low-cost carrier LEVEL would take its place. French boutique airline La Compagnie also currently operates a fleet of Boeing 757-200s in an all-business class configuration successfully, flying from Paris-Orly to Newark.
Although Ian McMurtry was never originally an avgeek, he did enjoy watching US Airways aircraft across western Pennsylvania in the early 2000s. He lived along the Pennsylvania Railroad and took a liking to trains but a change of scenery in the mid-2000s saw him shift more of an interest into aviation. He would eventually express this passion by taking flying lessons in mid-Missouri and joining AirlineGeeks in 2013. Now living in Wichita, Kansas, Ian is in college majoring in aerospace engineering and minoring in business administration at Wichita State University.
Latest posts by Ian McMurtry (see all)