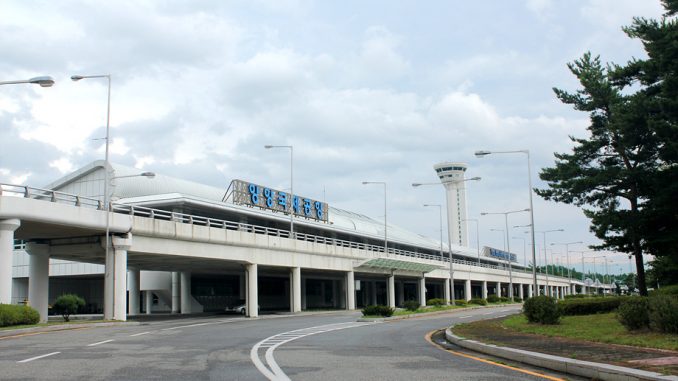 While most people travelling to South Korea for the XXIII Winter Olympics in PyeongChang will fly into Seoul's Incheon International Airport, there is another airport much closer to PyeongChang that will be the welcoming point for many coming to the games.
Located roughly 35 miles northeast of the Olympic Village, Yangyang International Airport has seen its fair share of rough years, and hopes that this year's Winter Olympics will help it to shift into a more regularly utilized airport.
A Troubled History
With the population of South Korea expanding in the 1990s and cities looking to take advantage of a booming Asian economy, the towns of Gangneung and Sokcho wanted to find a way to improve the airports they already had. Both cities had their own services, but due to city sizes, their inability to expand left them with little ramp space and dangerous taxiing conditions for larger aircraft. As a result, a deal was made to close both airports' commercial operations, instead opting to build a new airport in the town of Yangyang, located between the towns of Sokcho and Gangneung.
A site south of Yangyang was chosen in 1995, and crews began clearing the land for the new terminal one year later. The airport would feature a four-gate terminal with a separated level for arrivals and departures. The location would have a single 8,000-foot runway with no parallel taxiway, instead opting for a single entry and exit point at widened runway ends to allow for aircraft to u-turn before departing or after arriving. Construction was completed in 2001, and the airport officially opened for service in 2002.
Unfortunately, while they did build it, airlines rarely came. Smaller South Korean carriers attempted to fly to Yangyang with limited success, and the airport was able to grab seasonal service to North Korea on Air Koryo, but all services that were offered were disconnected by 2008.
Although Yangyang had become common use for general aviation, the commercial terminal sat empty for nearly two whole years as both local governments contemplated closing or selling the airport in hopes of finding some return on their investment. Eventually, help came in 2010 when East Asia AirLine announced they would be the first carrier to fly to Yangyang in over 20 months with the launch of their Busan-Yangyang route.
This started a trend of seeing new carriers pop up at Yangyang, with TransAsia Airways beginning flights to Taiwan in 2011. The airport also become a hub for Korea Express Air, which operated Embraer ERJ-145s from Yangyang to Busan and Jeju.
Yangyang Faces the Olympics
While services on East Asia AirLine and TransAsia Airways have since been suspended for the last several years, the airport continues to see service thanks to Korea Express Air, which has increased their services with the addition of Kitakyushu, Japan to the route map. The airport has also landed seasonal flights on Russian carrier Yakutia Airlines, which flies to the coastal airport from Vladivostok.
Although Yangyang has seen its struggles through its operation, the 2018 Olympics will see the airport at its busiest point to date. Korean Air announced they would launch Boeing 737-900 flights between Incheon and Yangyang for travellers headed to the games. The airline will also add scheduled charter flights to London-Gatwick, New York-JFK, Minneapolis, and Munich. All international charter flights will be operated by Boeing 777-300ERs. The airport also expects to see an increase in private and charter flights into the airport as international travelers come to South Korea for the games.
The airport hopes that this Olympics and a strong showing from people travelling to the Yangyang region could persuade the Hanjin-owned Korean Air to consider flying to Yangyang more consistently. This option becomes more of a reality with Korean adding more 127-seat Bombardier CS300s, which will be used in smaller markets.
While Yangyang Airport has seen its fair share of struggles when it comes to landing and holding onto carriers, this Winter Olympics could be the spark that lands the airport a consistent route map and more variety in airlines for the travelers to northeast South Korea.
Although Ian McMurtry was never originally an avgeek, he did enjoy watching US Airways aircraft across western Pennsylvania in the early 2000s. He lived along the Pennsylvania Railroad and took a liking to trains but a change of scenery in the mid-2000s saw him shift more of an interest into aviation. He would eventually express this passion by taking flying lessons in mid-Missouri and joining AirlineGeeks in 2013. Now living in Wichita, Kansas, Ian is in college majoring in aerospace engineering and minoring in business administration at Wichita State University.
Latest posts by Ian McMurtry (see all)