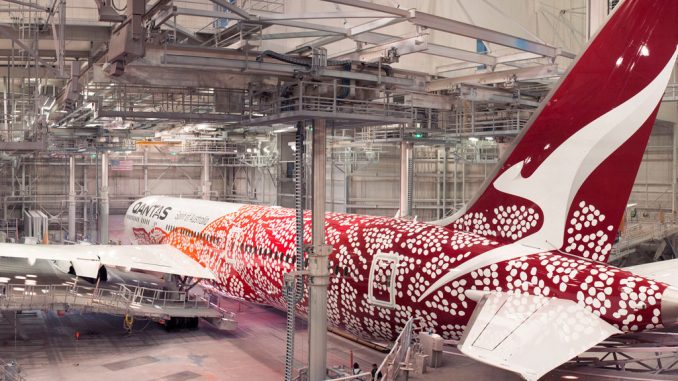 With the goal of reiterating its commitment to the Aboriginal and Torres Strait Islander culture in Australia, Qantas has launched its latest unique livery. Featured on a Boeing 787-9, the artistic work was inspired by artwork created in 1991 by Emily Kame Kngwarreye, a senior member of the Anmatyerre clan.
The unique livery is based on Emily's artwork titled 'Yam Dreaming,' recognizing the importance of yams in her home region of Utopia.
Qantas' Chief Executive, Alan Joyce, stated, "As the national carrier we're thrilled to showcase another piece of Indigenous culture on one of our aircraft, and to reiterate our ongoing commitment to reconciliation with Aboriginal and Torres Strait Islander people."
While the aircraft maintains the iconic Qantas tail, the airline was able to utilize an Indigenous-owned design agency, Balarinji, to bring Emily's artwork to life.
The aircraft is Qantas' fifth indigenous inspired livery, each of which has included a unique livery dedicated to the indigenous Australian people on the side of Boeing 737 or 747 aircraft. The program was started in 1994, and has continued with the goal of remaining committed to its Reconciliation Action Plan that promotes supporting Aboriginal and Torres Strait Islander people.
While Qantas is certainly not the only airline to create a unique livery, it has become one of the few to dedicate the exterior of its aircraft to a cause like this. The aircraft is set to be delivered in early March, with the goal of beginning domestic and eventually international service shortly thereafter.

Joe joined AirlineGeeks in 2014, and in his current role as Editor-in-Chief manages a growing team of writers both in North America and Europe. He enjoys spending the bulk of his time researching, learning and analyzing the latest trends in the airline industry, all while mentoring new members of the AirlineGeeks team who seek to do the same. Areas of research include revenue management, codeshare and alliance partnerships and airline financial results.

Latest posts by Joe Pesek (see all)