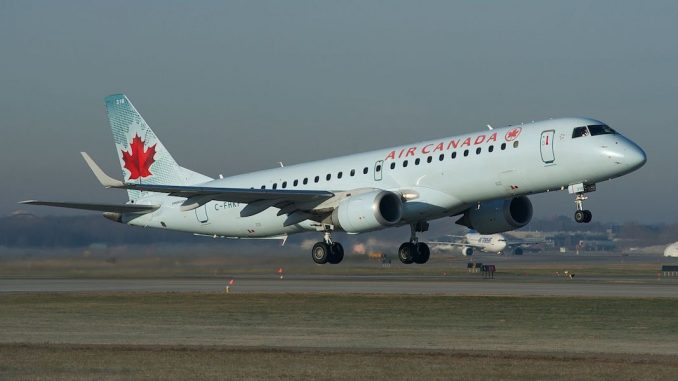 Air Canada has announced that it will retire its twenty-five Embraer 190 aircraft within the next 18 months. The airline made the announcement as it prepares to take delivery of its new Bombardier CS300 aircraft, which is slated to be delivered late 2019.
The Embraer 190s are operated as Air Canada's mainline fleet and are only about 10 years old. The aircraft, hopefully, won't be visiting the boneyard just yet, as the airline is hoping to place the newly-retired aircraft into the marketplace to be sold other airlines.
"We have made decisions to accelerate the removal of the EMB-190s from our mainline fleet. To do this we will retain the A319-100 aircraft a little bit longer than initially planned at the bridge to the deliveries of the Bombardier CSeries scheduled to commence in late 2019. The Airbus 319 aircraft typically has a lower CASM (Cost Per Available Seat Mile) than the EMB-190," said Mike Rousseau, Chief Financial Officer of Air Canada.
Air Canada is reported to have big plans for the new CS300 aircraft and believes that it will allow the carrier to greatly expand their network.
"This airplane is so good [that] we think it's going to want to go on every route in North America," said Benjamin Smith, President of Passenger Airlines for Air Canada. "The economics – it's got CASM rates that are equivalent to much larger airplanes. So it may enable us, or give us the opportunity, to rethink our bank structures, how our network is designed."
The airline currently has orders for 45 CS300s, almost double its current Embraer 190 fleet, and could possibly deploy the aircraft on medium range routes such as Vancouver to Boston, or to destinations in Europe or Hawaii.
It is worth noting that Air Canada has also placed orders for the new Boeing 737 MAX aircraft, which will replace the airline's mainline narrow-body fleet. The new fleet additions will help the airline to have one of the world's youngest, most fuel-efficient fleets.
An "AvGeek" for most of his life, Akhil has always been drawn to aviation. If there is an opportunity to read about an airline, fly on a new airplane, or talk to anyone about aviation, he is on it. Akhil has been on over 20 different kinds of aircraft, his favorite being the MD-80. Additionally, he has visited 5 continents and plans to knock out the remaining two (Africa and Antarctica) soon. Based in Dallas, Akhil graduated from Texas A&M University with a degree in Management Information Systems and currently works in consulting. His dream is to become an airline executive.
Latest posts by Akhil Dewan (see all)