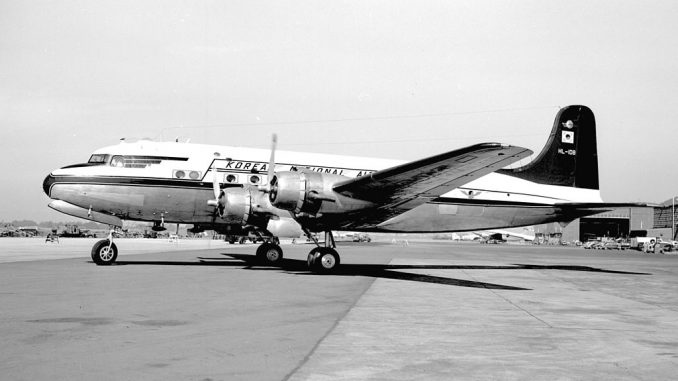 Founded in 1946 by Captain Shin Yong-Wook, South Korean carrier Korean National Airlines, or KNA, was formed as a commercial passenger and air cargo airline. Instead of its longer full name, the carrier operated under the name Koreanair.
KNA's inaugural flight took place on October 30, 1948, from Seoul to Busan in the southern part of the country. Just two short years into their operations, the airline was forced to stop flying from 1950 to 1952 as a result of the Korean War between the North and South. Once operations relaunched, KNA re-entered service strong with a different fleet.
Before the war disrupted operations, the carrier operated Stinson Voyager airplanes. In 1952, after resuming service, the fleet consisted of DC-3 and DC-4 piston aircraft. A Lockheed L-749 Constellation was also added to the fleet eventually. Fokker F-27 Friendship aircraft were also on order, however, the airline was never able to use those aircraft.
Over the course of their history, Korean National Airlines served very few destinations. However, their international route network was extensive. Domestic flights included service to Busan, while international flights included service to Gangneung, Gwangju, Hong Kong, Manila, Jeju, and Seattle, all from their hub in Seoul.
Despite their growth and fleeting success, the airline abruptly came to an end in 1962 after being nationalized by the government. Korean National Airlines' founder challenged the move, however, the carrier was forcibly acquired, in a sense.
The new airline that was formed is Korean Air, one of the world's leading airlines. In an ironic move, the airline was privatized in 1969.
Ashley is currently a senior in high school and plans on pursuing a career in aviation or journalism. Her favorite airplanes include the Boeing 777, 737MAX, and Airbus A350. She enjoys taking flights on various airlines to different airports and planespotting at her local airports.
Latest posts by Ashley Magoon (see all)