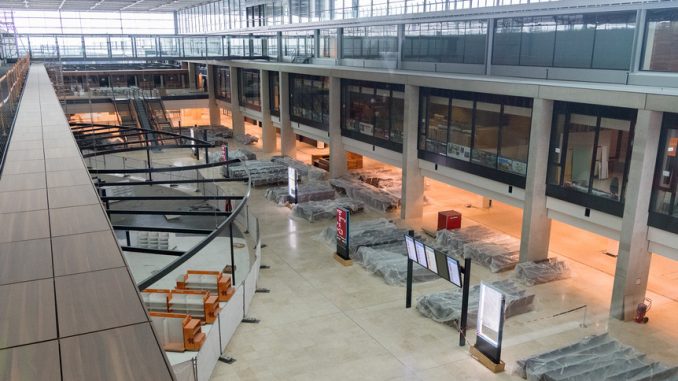 After years of recurring delays, Flughafen Berlin Brandenburg GmbH, the operator of Berlin Brandenburg Airport, has requested an additional €770 Million to finish the airport's construction by 2020. If the project is completed within the new estimated budget and timeline, the airport will begin operations nine years later than projected and cost nearly €7.3 billion.
While the airport has certainly recognized its fair share of issues over the last decade, German broadcaster RBB has reported that a portion of the capital request will be used to service debts, and will be funded partially by the German government.
In mid-December the airport was able to finalize one of its biggest hurdles, as one of its contractors, Caverion, announced that it was on track to fix the long issue plagued sprinkler system by August of 2018. However, the airport still faces an uphill battle in fixing the incorrectly installed cabling system related to fire detection.
If the airport is indeed completed as planned in 2020, the uphill battle doesn't show any signs of stopping. With an estimated capacity of 27 million people, traffic to the two other Berlin airports already exceeds 33 million people, meaning the original plan of transferring all traffic from Berlin Tegel and Berlin Schonefeld likely will not be feasible.
Berlin Brandenburg does have plans for two future satellite terminals to help the airport expand to support up to 45 million passengers. However, no decision construction have been presented yet, with the sole focus being on completing the main terminal, which will be essential as a combination of full service and low-cost carriers make the transition to the new airport.

Joe joined AirlineGeeks in 2014, and in his current role as Editor-in-Chief manages a growing team of writers both in North America and Europe. He enjoys spending the bulk of his time researching, learning and analyzing the latest trends in the airline industry, all while mentoring new members of the AirlineGeeks team who seek to do the same. Areas of research include revenue management, codeshare and alliance partnerships and airline financial results.

Latest posts by Joe Pesek (see all)