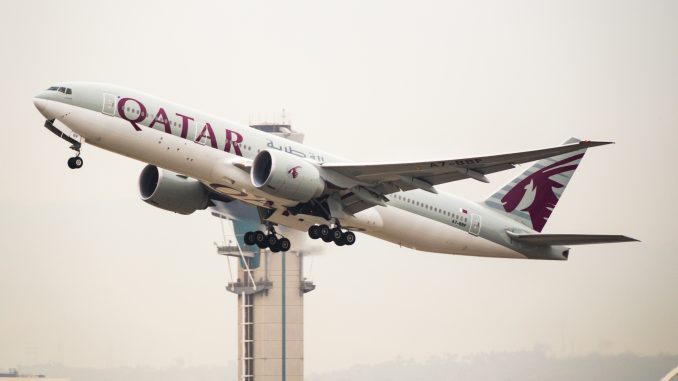 Despite the ongoing dispute between the big three airlines of Gulf nations in the Middle East and the U.S. airlines regarding the Open Skies agreement and the issue of government subsidies, Qatar Airways has announced that it is open to the idea of resuming codeshare operations with American Airlines.
Qatar Airways' Oneworld partner, American Airlines, will end the codeshare on March 24, citing its "extremely strong stance" in the Open Skies dispute and Qatar Airways' unsolicited bid for a 10% stake of American Airlines.
The Open Skies dispute first began in 2015, when American, Delta and United accused Emirates, Etihad, and Qatar of dumping capacity in the U.S. due to over $42 billion in government subsidies. Qatar Airways settled the dispute by agreeing to international accounting standards and agreeing to not start flights to the U.S. from third countries.
"We are always open to those discussions," said Gunter Saurwein, Vice President of the Americas at Qatar Airways. "American is a very important partner to us."
However, American has expressed that it has no plans to resume its codesharing with Qatar Airways.
It is worth noting that Qatar Airways is an equity partner with British Airways and a large investor in the LATAM Airlines Group. American maintains a joint venture with British Airways and is seeking one with LATAM. While American wants nothing to do with Qatar, it may be forced to do business with it in one way or another. Qatar also maintains a codesharing agreement with New York-based JetBlue Airways, a former American Airlines partner.
American has announced that it will re-book all passengers booked on AA codeshare flights operated by Qatar or Etihad after the closing date.
Frequent flier partnerships will remain despite the ending of codesharing, as both airlines are part of the Oneworld alliance. AAdvantage members will still be able to earn and redeem miles American miles aboard Qatar Airways flights.
An "AvGeek" for most of his life, Akhil has always been drawn to aviation. If there is an opportunity to read about an airline, fly on a new airplane, or talk to anyone about aviation, he is on it. Akhil has been on over 20 different kinds of aircraft, his favorite being the MD-80. Additionally, he has visited 5 continents and plans to knock out the remaining two (Africa and Antarctica) soon. Based in Dallas, Akhil graduated from Texas A&M University with a degree in Management Information Systems and currently works in consulting. His dream is to become an airline executive.
Latest posts by Akhil Dewan (see all)