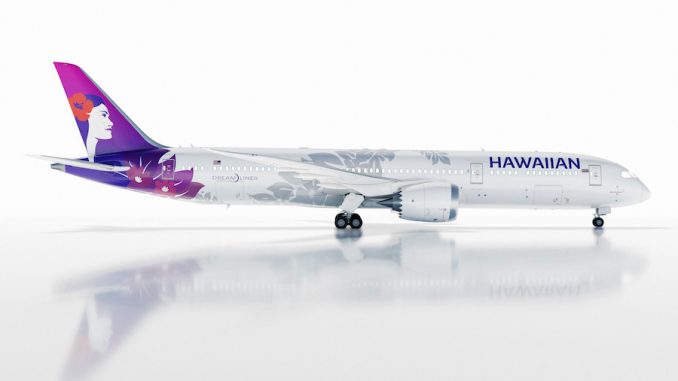 Hawaiian Airlines has officially announced an order for 10 Boeing 787-9 Dreamliner aircraft and the option for an additional 10 aircraft on Tuesday, effectively ending Airbus' plans to deliver an A330-800 aircraft in the near future. 
"We were in the enviable position of choosing between two outstanding models for our flagship aircraft of the future and I couldn't be more excited about the prospect of adding the Dreamliner to Hawaiian's fleet," said Hawaiian Airlines President and CEO Peter Ingram.
The 787's fuel efficient, lightweight design came on top as the victor of a battle with the Airbus A330-800. With the now-canceled orders from Hawaiian, the A330 variant is left without any orders on the tab.
"The Dreamliner combines excellent comfort for our guests with fantastic operational performance and will allow us to continue modernizing our fleet into the next decade," added Ingram. "It has more seating capacity than Hawaiian's current wide-body fleet, which will allow us to further build upon our successful growth in Asia."
The Honolulu-based carrier expects to receive its first 787 in the first quarter of 2021. Hawaiian has opted to fit the Dreamliners with the General Electric GEnx engines with a total value of $2.82 billion USD for the confirmed orders.
Hawaiian plans to use their new aircraft on long-haul routes to North America and Asia/Pacific destinations.

"Hawaiian Airlines has been on an impressive growth trajectory, continuously expanding service between Asia and North America. It's why we are thrilled they've chosen to reach their next horizon with the 787 Dreamliner," said Boeing Commercial Airplanes President and CEO Kevin McAllister.
He continued, "The Dreamliner's advanced technology, unmatched fuel efficiency, and passenger-pleasing cabin will help Hawaiian optimize its fleet for the future and provide their customers with a best-in-class experience."
The 787 is currently flying on over 1,500 routes including 170 new nonstop routes which were made possible by the Dreamliner.
Hawaiian Airlines currently flies 54 aircraft: 24 Airbus A330-200s, 20 Boeing 717s, 8 767s, and 2 Airbus A321neos.

Matthew Garcia became interested in aviation at the age of 12 when he installed Microsoft Flight Simulator X on his computer. He was instantly "bitten by the bug" and has been in love with aviation ever since. Matthew took his first introductory flight in 2013 and began normal flight training in February of 2015. Over the years, Matthew's love and knowledge for aviation has grown tremendously, mainly due to FSX. Garcia flies highly advanced aircraft in a professional manner on a highly complex virtual air traffic network simulating real world flying. In 2016 Matthew achieved his private pilot certificate from the FAA. Now he studies journalism at the University of Nebraska at Omaha.

Latest posts by Matthew Garcia (see all)