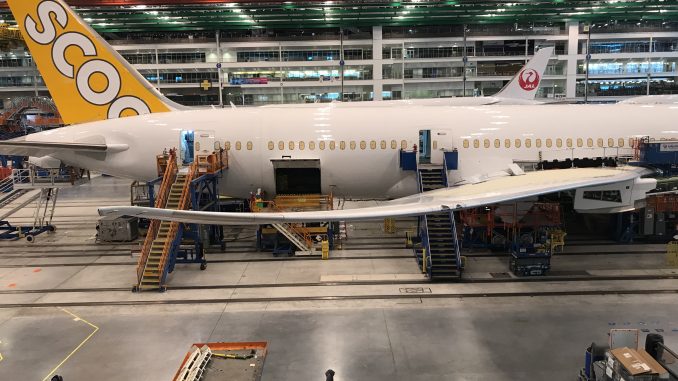 Boeing is showing off their North Charleston, S.C. facility ahead of the first 787-10 Dreamliner delivery to Singapore Airlines on Sunday night. While the factory's size pales in comparison to its Everett counterpart, it is a powerhouse for 787 production, turning out roughly five aircraft each month.
AirlineGeeks took an in-depth look inside Boeing's South Carolina plant back in February 2017. The campus itself boasts an aft-body, mid-body, and final assembly areas in addition to a decorative paint facility and delivery center.
Boeing South Carolina is full service, too, meaning that it is able to take aircraft from 'freezer to flight.'  The 787 is the first aircraft made primarily of composite materials.
Starting with the aft-body section, the Boeing South Carolina team fabricates the piece that will become the rear of the passenger cabin with carbon fiber before moving it to final assembly or loading it onto a 747 Dreamlifter to Everett.
If the carbon fiber used in a single 787 was spread out into a straight line, it would measure 2,200 miles, roughly the distance between Charleston, S.C. and Los Angeles.
Since the Dreamliner is the first commercial aircraft with a fuselage comprising of one-piece composite sections, it requires 1.2 million fewer fasteners than non-composite jets.
After moving across the North Charleston campus, the 787 sections are placed into position zero, which means they have yet to be fully joined together. This also includes the mid-body section of the aircraft. Unfortunately, no photos were permitted in the mid-body facility.
The final assembly building is where the aircraft gets its wings.
Boeing South Carolina's final assembly building spans approximately 1,040 feet in length and 617 feet in width. On a Sunday morning, the building itself was quiet with most workers being off-duty.
The final assembly building in North Charleston is normally dominated by a plethora of tails from around the world, though tails of Asian carriers dominated the landscape. Included in the mix were Singapore 787-10s, Scoot 787-9 aircraft, and a Japan Air Lines 787-9.
Notably, Singapore 787-10 aircraft populated the factory floor along with the two already sitting on the nearby flightline.
When Singapore Airlines takes delivery of its first Boeing 787-10 Dreamliner in North Charleston on Sunday evening, the airline, along with its Scoot subsidiary, will be the first to operate all three 787 variants.
Ryan founded AirlineGeeks.com back in February 2013 (actually, it was called Aviation Official, but we've changed a bit since then). From being on the yoke of a Piper Navajo, to visiting about Delta's operations center in Atlanta, Ryan has done it all. in 2016, along with American Airlines, Ryan masterminded AAviationDay at more than 10 locations around the world. The smell of jet fumes in the morning along with the countless number of passionate airline employees keep him enthralled in the industry, always seeking more. You can find him helping out travelers at Reagan National Airport near Washington, D.C. when he's not doing something for AirlineGeeks.
Latest posts by Ryan Ewing (see all)