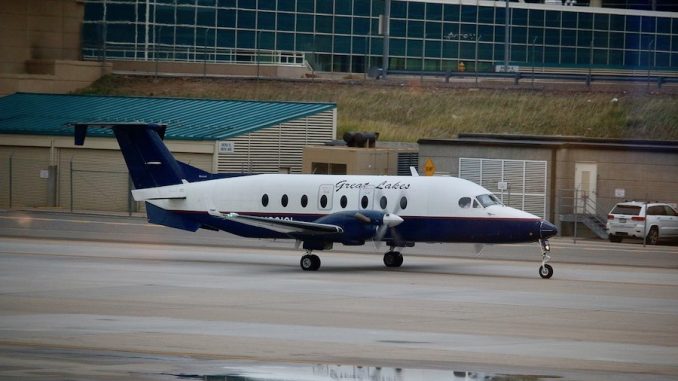 While major airlines are constantly announcing routes between major cities, its easy for the smaller cities in the United States to get forgotten. Some airlines, however, make small cities their business, especially with the Essential Air Service (EAS) contracts being offered by the government to serve them. With this motivation in mind, a group of Iowans decided to launch Great Lakes Aviation in 1977.
The airline started small, offering flights daily using propeller Beechcraft C99s and, later, Beechcraft 1900Ds with a sole route in Iowa between Spencer and Des Moines. However, the new brand quickly added new destinations around the Great Lakes and move their hub from Des Moines to Chicago's O'Hare Airport to increase locational advantage and for connecting purposes with major airlines.
The move to Chicago served the airline well, as just a few years later, United Airlines, which has a hub at Chicago-O'Hare, agreed to a codeshare agreement with Great Lakes Aviation on the condition the carrier was willing to also open operations in Minneapolis-St. Paul and Denver. The carrier would also further their regional operations when they announced an agreement to operate Beechcraft 1900Ds for Midway Airlines from Raleigh-Durham Airport in North Carolina.
Unfortunately, neither of these deals would last. Midway Airlines would cut its regional operations in 1997, as the airline was attempting to avoid bankruptcy, and United would remove their deal with the Iowan-carrier in 2002.
As a result, the operating bases in Chicago-O'Hare and Raleigh-Durham were closed in favor of shifting operations westward. The airline's headquarters would move to Cheyenne, Wyoming and the airline would open a new hub in Tucson, Arizona, a far cry from the busy Chicago-O'Hare.
With previous deals with other carriers going bust, Great Lakes turned their attention to offering flights to Essential Air Service destinations in the west, but didn't give up trying to find a partner in the majors. The carrier would add a codeshare with Frontier Airlines and, as a result, would move operations at Denver from United's Concourse B to Frontier's Concourse A.
The airline would rapidly chase open EAS routes, opening and closing hubs in Milwaukee, St. Louis, Kansas City and Los Angeles in hopes of cashing in on some cities' lack of service. After all, EAS flights are subsidized by the federal government, making formerly unprofitable routes worthwhile. Those routes are the crumbs left behind by the majors, but the crumbs can be valuable too.
However, events outside of Great Lakes' control would lead to the carrier's dismantling through the 2010s. In 2013, the government's new rules for crew rest and required flight time to fly for commercial carriers would lead to Great Lakes suffering from a pilot shortage.  Their solution: mostly downsizing and leaving some of the less lucrative EAS cities to keep crews on the popular routes.
The continuing lack of pilots at the regional level was quickly starting to impact Great Lakes more and more. The airline made a deal with Silver Airways, another airline serving EAS routes, and Frontier Airlines in 2016 with the hopes of giving pilots an accelerated route to go from regional aircraft to jet planes, often called a pipeline or flow-through program. Unfortunately, this did little to make Great Lakes more attractive of an option compared to other regional carriers with better pipeline programs to better airlines.
Short staffed and operating a route network that had been consistently dwindling, Great Lakes Aviation finally called it quits at midnight on March 28, 2018. The airline had been operating a fleet of thirty aircraft consisting of 24 Beechcraft 1900Ds and six Embraer ERJ-120s. The airline would abandon their hubs at Denver, Los Angeles and Phoenix, as well as leave EAS cities such as Salina, Kansas with no air service.
While the Great Lakes Aviation brand would be lost, the carrier has consistently stated that they will not be filing for bankruptcy. The airline will lay off some of the staff and hope to relocate others while the fleet of planes will be sold. The airline's codeshare on Aerodynamics Inc's Denver-Pierre-Watertown route is still valid for the time being, although the propeller-driven regional carrier has collapsed.
Although Ian McMurtry was never originally an avgeek, he did enjoy watching US Airways aircraft across western Pennsylvania in the early 2000s. He lived along the Pennsylvania Railroad and took a liking to trains but a change of scenery in the mid-2000s saw him shift more of an interest into aviation. He would eventually express this passion by taking flying lessons in mid-Missouri and joining AirlineGeeks in 2013. Now living in Wichita, Kansas, Ian is in college majoring in aerospace engineering and minoring in business administration at Wichita State University.
Latest posts by Ian McMurtry (see all)