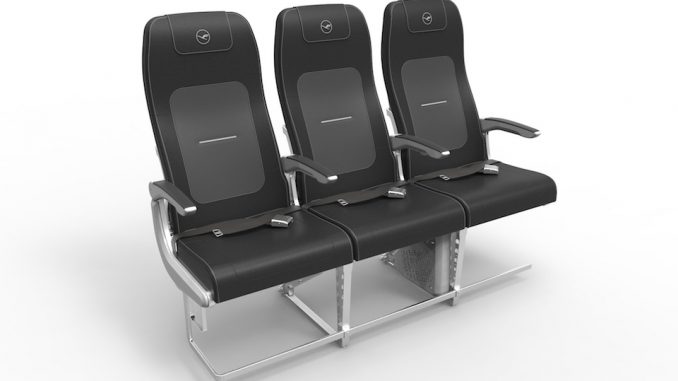 The Lufthansa Group announced a new seat that will be featured across every Airbus A320 family aircraft in their combined fleets. This will mark the first time that Lufthansa, SWISS, and Austrian Airlines will all have standardized seats on select fleet type. Seats will be featured on all short and medium-haul routes, operated by the A320 series.
The new seats will be fitted inside the cabin of all Airbus A320 aircraft that the airline group takes delivery beginning in 2019. Seats will be manufactured by Italian supplier, Geven. Each seat will feature a slimlined backrest along with full foam bottom cushions to allow for a more comfortable travel experience.
The redesigned seats feature a larger degree of inclination of the backrest than previously before seen on Lufthansa Group flights. Current seats have a 12-degree inclination during taxi, takeoff, and landing, however, this will be increased with the new seats. New seats in economy class will be fixed at 20 degrees of recline and the recline of the seat will not be adjustable.
Geven describes this as a 'precline', because it's preset and can't be adjusted by the passenger. The seat manufacturer claims the 'precline' serves to make travel "more comfortable not only during the flight, but also while the aircraft is taxiing, during take-off and landing."
Business class seats will have the ability to recline to a 26-degree incline angle while the planes are in the cruise portion of the flight.
Paul Estoppey, Head of Product Cabin Lufthansa Group Hub Airlines, said: "Geven has an excellent reputation in the industry, which we can fully confirm. The cooperation has been excellent from day one and we, as the Lufthansa Group, have always benefited from Geven's great expertise and creative support for the further development of the seat."
The benefits of a standard seat reach far beyond the increased comfort for passengers no matter what airline they are flying on. The new seats also reduce overall aircraft weight and allows for a more uniform maintenance routine, decreasing costs. While these seem like minor changes to save some money, it is part of the minute details that airlines have to deal with on a daily basis.
Part of the idea of homogenous seating is in part due to the transferring of aircraft between individual parts of Lufthansa Group. The standardization will allow for a more effortless and rapid transition period should an individual aircraft need to be transferred between airlines within the group. The ease of transfer will allow the Group to more easily respond to capacity need changes across airlines and hubs. It will also allow for flexibility should specific developments arise without much notice.
Jace has been working at AirlineGeeks for nearly three years. Born in Seattle, Boeing and aviation quickly took over his life and he never stopped looking up. Jace enjoys plane spotting and taking trips just so he can fly. He is currently studying at Embry-Riddle Aeronautical University while earning his Bachelors of Science in Air Traffic Management.
Latest posts by Jace Moseley (see all)