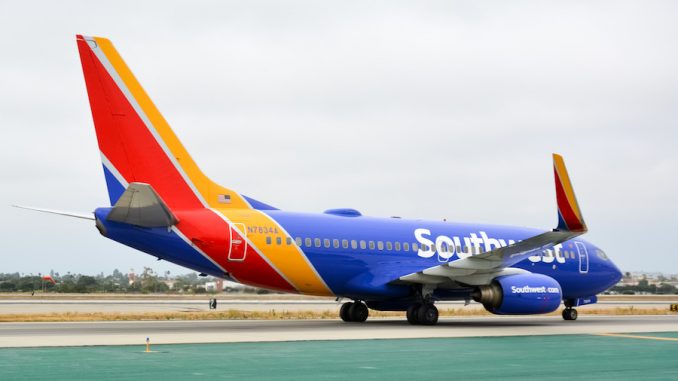 On Tuesday afternoon, Southwest flight 1380 from New York-LaGuardia to Dallas Love Field suffered an uncontained engine failure at approximately 32,000 feet. The aircraft, registered as N772SW, was forced to divert to Philadelphia where it was met by airport fire and rescue teams.
The NTSB reports that one passenger has died as a result of the incident.
The 737-700's left-hand CFM56 engine failed mid-flight, scattering debris around the aircraft. One of the pieces struck a window, shattering it. This, in turn, led to a loss of cabin pressure. Social media images show that oxygen masks were deployed. 143 passengers and five crew members were reportedly onboard.
If this ends up being the opening scene to Final Destination 13, I'm going to be really salty. #Flight1380 pic.twitter.com/feK7cPZS70

— Matt Tranchin (@mtranchin) April 17, 2018
The crew descended into Philadelphia and were informed that a passenger may have been sucked out of the cabin.
The aircraft was met by emergency services and passengers were transported back to the terminal. One passenger was taken to the hospital in critical condition.
"We are aware that Southwest flight #1380 from New York La Guardia (LGA) to Dallas Love Field (DAL) has diverted to Philadelphia International Airport (PHL). We are in the process of transporting Customers and Crew into the terminal. The aircraft, a Boeing 737-700, has 143 Customers and five Crewmembers onboard. We are in the process of gathering more information," a statement from the airline read in part.
The NTSB is sending a go team to the site to investigate the incident.
CFM International. the aircraft's powerplant manufacturer, is also sending a technical team to Philadelphia. In a statement, the company added, "CFM will support the NTSB and Southwest Airlines in determining the cause of the accident. We will make every resource necessary available to ensure support."
This death breaks a 9-year streak of no fatalities on a U.S. carrier. Commercial aviation-related deaths in the U.S. have decreased by around 95 percent in the past 20 years, according to the FAA.
Latest update: 
Southwest has issued a statement confirming the onboard fatality: "We are deeply saddened to confirm that there is one fatality resulting from this accident. The entire Southwest Airlines Family is devastated and extends its deepest, heartfelt sympathy to the Customers, employees, family members and loved ones affected by this tragic event. We have activated our emergency response team and are deploying every resource to support those affected by this tragedy. For a message from Gary Kelly, Southwest Chairman and Chief Executive Officer, please click here."
Ryan founded AirlineGeeks.com back in February 2013 (actually, it was called Aviation Official, but we've changed a bit since then). From being on the yoke of a Piper Navajo, to visiting about Delta's operations center in Atlanta, Ryan has done it all. in 2016, along with American Airlines, Ryan masterminded AAviationDay at more than 10 locations around the world. The smell of jet fumes in the morning along with the countless number of passionate airline employees keep him enthralled in the industry, always seeking more. You can find him helping out travelers at Reagan National Airport near Washington, D.C. when he's not doing something for AirlineGeeks.
Latest posts by Ryan Ewing (see all)